Custom Neon Signs

We specialize in building custom neon signs. We transform ideas, designs and logos into vibrant neon signs - Simply contact us for a FREE mock and quote.

We bring your idea to life - just like magic!

Custom Neon Signs

Business Signs

Business signs made easy - Our team have designed a collection of ready-made business signs for common business uses. Includes open signs, food signs and more.

Browse our range of neon business signs!

Neon Business Signs

Ready-Made Signs

Browse 1000's of pre-designed neon decor signs. Our collection includes signs for home, business, wedding, office and more.

Browse our full collection of neon signs!

Ready-Made Neon Signs
Customers who bought a custom neon sign said ..
Damn, these signs look BADASS! Great job!
I went with Voodoo Neon because of the speed & communication.
Chris was excellent. He walked me through everything.
The custom neon sign we got was perfect - I can tell it's top quality workmanship.
Highly recommended!
You guys knocked it out the park. They look amazing. The signs for Teddys Tiny Bites looks great.
I'm already thinking of how we can incorporate another custom sign into our store!
So exciting and so fast!

Wonderful working with you on this project - you made my life so easy.
You made what might have been an ordinary sign, extraordinary!
The 3 custom neon signs we got we're amazing - we had them quickly and up for our opening Friday night game.
I'm getting texts from people asking where we got the signs from.
People are going crazy about them!
I am speechless. Absolutely amazing!!!
Thank you Voodoo Neon!
Custom Neon Signs | LED Neon Light Signs
Here at Voodoo Neon we specialize in designing and manufacturing high-quality custom neon signs for business and neon décor use. We've worked with countless businesses to help them convert their business logo or business sign into a fully working custom neon sign.

With endless creative possibilities our custom neon signs can display any quote, logo or image, making them a versatile and eye-catching form of marketing and also decoration. They can be fully customized to suit your business sign needs – from external outdoor neon signs to indoor creative neon art work. They can be functional and directional, artistic or simply promote your brand logo. We have a neon business sign solution for every business.

All of our custom neon signs are hand-made by expert craftsmen who have years of proven experience in sculpting neon signs. To ensure our neon signs are of the highest standard and long-lasting we use only the best quality materials.

We have a staff of neon sign consultants who have experience in working with business and home clients in refining their exterior and interior design needs. We work with our customers to better understand their business sign needs and then craft tailored sign solutions to specifically meet their requirements.
All of our custom neon signs are:
Handmade & Crafted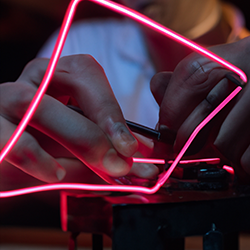 Free Express Post to USA & Canada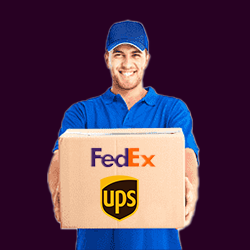 2 Year Warranty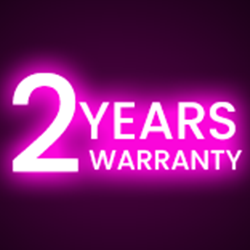 Easy to Install & Maintain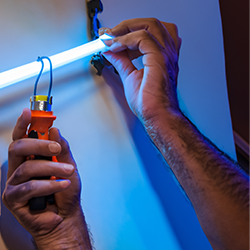 Tailored Solutions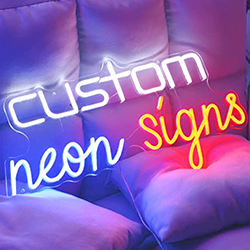 Our business customers often report back after they have displayed their new neon sign:
Increased visits to their brick-and-mortar stores – with bright outdoor neon signs, and in-window neon signs
Increased internal engagement - with discount neon signs, neon décor and neon artwork
Streamlined internal purchasing - with buy here, pay here and order here neon signs
Whether you want to showcase your business logo in neon, promote an upcoming event, or simply add a touch of personality to your space, custom neon signs are an excellent choice for bringing the glow.

With endless customization options at your fingertips, a custom neon sign is the perfect way to make a statement, express your brand identity, or simply brighten up any space with a vibrant and captivating glow.

So, why wait?! - Add a splash of character to their interior or exterior of your brick-and-mortar business with one of our custom neon signs! Contact our team of using the phone number below, or send us a request for quote form. Our team of neon sign consultants are waiting for your call today!

Our Touch of Magic, Your Custom Neon Sign – Voodoo Neon
Frequently Asked Questions About Our Neon Signs
Collapsible content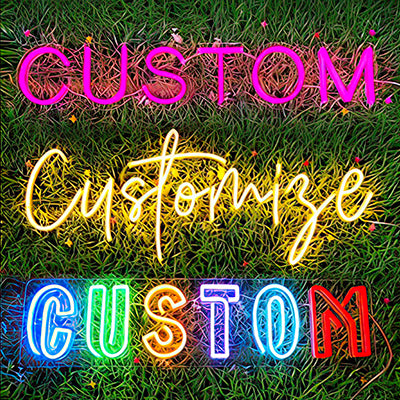 How much does it cost to buy a customized neon sign?

Typically a custom neon sign is priced in the range of $400-1700.

Obviously the price varies based on the size of the sign, the complexity and the specifications of the sign.

We provide a FREE no obligation design and quote for all customers - Contact our team if this might be of interest to you.
How long does it take to make a customized sign?

To actually make the neon sign itself is typically about 2-3 days - once we have an approved design, production is quite quick.

Once made we send over the post-production images and videos of the sign, so you can see what it looks like ahead of it arriving at your door.
How long does shipping take?

Shipping is typically 5-6 days to all US addresses. This timeframe is what we've observed over thousands of orders.

All of our neon signs are sent Express Post with UPS and Fedex.

We ship via the fastest route possible and directly from our manufacturing facility on a daily basis. Our boxes are sturdy and professional grade, shipped with care.
What can I customize about the neon sign?

You have almost limitless options on what you can customize:

Design: We can work with almost any logo, design, image or idea and turn it into a customized light up sign!
Colors: We have 21 different colors of LED
Mounting: We have about 10 different mounting options (including several wall mounting options, two hanging options, and a desk stand)
Indoor/Outdoor: We can make outdoor weather-proofed custom signs to suit your needs
Backboard Color/Texture: We have UV-printing, many different colors of backboards, and patterns you can choose from.
Backboard Cut: We can cut to letter, cut to shape, rectangle and suit any kind of cut you want.
Dynamic Neon: By far the most advanced LED neon sign you can buy. An intense LED lighting experience with cycling colors, random colors and many settings to choose from. A dynamic neon sign is the best you can get in a LED neon sign (contact our team for a demonstration video!)
How many colors of LED lights do you have?

We have 21 unique colors of LED lights that we can use in our signs.
If I ordered today when would I get the sign?

We estimate within 10 days you would have your sign.
What are your neon signs made from?

All of our signs use LED lights, a solid acrylic backboard, US certified power supply, power cables and a remote control dimmer (for indoor signs).

LED signs are cost-effective, bright, durable, and far safer than the traditional gas neon tube lights.
What is the warranty?

We have a 2 year warranty on all of our customized signs and ready-made signs.
Do you make signs for business?

Yes - We design and build customized neon signs for businesses of all signs.

A big proportion of our sales are working with small, medium and large businesses who have brick-and-mortar stores.

All you need to do is send us your specification, a design file or idea and we handle the build of the neon sign(s) to suit.

Talk with one of our friendly consultants about your project.
Do you make customized signs for individuals and weddings?

Yes - We work with individuals who want a neon sign for their home wall art, for wedding decor, a birthday party, man-cave, selfie fans, podcasts, and plenty more.

Our team love neon, so talk to them about your idea!
Why are LED neon signs better than gas-neon signs?

Our neon signs are made with LED lights - which are brighter, safer, more durable, use less energy, are easier to manufacture and far cheaper than antique gas-neon signs.

We save our customers on nearly every metric when they purchase one of our LED neon signs instead of buying an antiquated gas-neon sign.
Why should I buy from you instead of your competition?

We have a proven history of delivering on our promises - Quality, Price, and Service.

Here are the top 5 reasons you should buy from us:

Our signs are of the highest quality - we use only the best electrical components
Our prices are competitive and market beating
Our neon signs are backed with a guaranteed 2-year warranty
Our customer service team are experts - we often get compliments about our staff attention to detail, professional advice and friendliness
Ultra-fast turnaround times (most neon signs delivered within 9 days)
What are the most popular neon signs?

The most popular neon signs are definitely the custom neon signs - customers can choose to make any design, size, style, font and color they choose. We can closely replicate any design or logo with our specialist machinery, and printing systems.

In our ready-made LED signs we have over 1000 products - the most popular products are the Porsche, Tesla, Batman, Good Vibes Only and all of the love and love heart signs.
Are your signs safe?

Yes - All of our LED neon signs use USA certified electrical components and power supplies. Our components are UL tested, and exceed the highest of American standards for electrical safety.

We supply documentation on how to install, mount and connect the sign. For most signs it's very simple - plug in and turn it on. For more complex commercial signs, we supply a diagram on how to connect.

We're happy to share any documentation, or evidence, to support the safety of our electrical components and signs.
Best Sellers
Checkout our top 4 best selling neon signs this week
Brands That Trust Us