American Neon Signs | Neon Slogans & Flags
On this page, you'll find all of our ready-made neon signs of famous American political slogans in neon lights. We also sell neon flags.
This range was created with the idea to have pre-designed, and ready-made neon signs of the most famous political slogans and sayings.
If you're a proud American then we have the range of products for you - our Proud American series, a bold and unique collection of neon signs that blend American patriotism with neon artistry.
These stunning American Neon Signs are more than just decor - they're a bold statement of American pride and freedom.
Each of our designs captures the heart and soul of what it means to be American - with famous political slogans. They aren't just LED signs; they're symbols of your American spirit, crafted with precision and care.
Get your own slice of American history with one of our proud American neon signs!
FAQ - Ready-Made Proud American Neon Signs
Collapsible content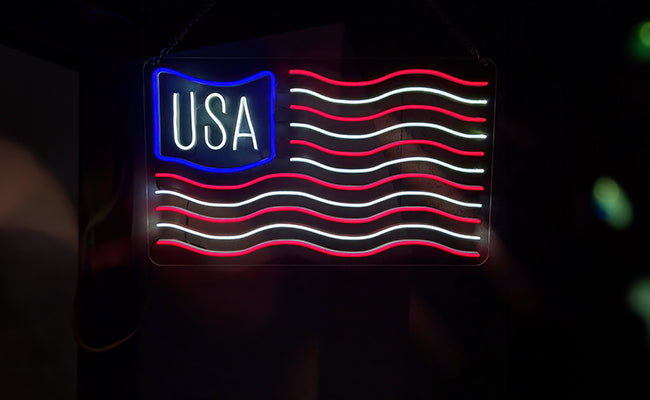 Are your neon signs customizable?

Yes - We can design and build a custom neon sign for anything you wish. If you want a custom sign, then please use the custom LED sign form to tell us about the sign you want, and we'll put together a concept design for you.

Our ready-made American neon signs are pre-designed and ready to ship.
What type of lights are used in your neon signs?

Our neon signs use high-quality LED light strips - We use only the highest quality electrical components in our signs.

Our LED lights have a lifespan of 50,000 and 100,000 hours. They should, under typical usage, provide 20-30 years of use without issue.

LED light strip is safe and cool to the touch and durable.
Do your neon signs come in a range of sizes? - and, colors?

Yes - All of our ready-made neon signs are available in several sizes - most, from 20" wide to 200" wide. We also have 21 different colors for all of our ready-made neon signs, plus there is a multi-color option!

Select the product you like and choose the size and color.

If you'd like a size bigger than that on our product pages, we can help you - Please send an custom inquiry to our customer service team.
Is an mounting kit provided with the neon sign?

Yes - Our neon signs all come with an installation guide and mounting kit included.

Our mounting options include:

Flat/flush wall screw kit (default)
Metal pins (positions the sign 1/2" off the wall, and provides a back-glow visual effect with light radiating behind the sign and off the wall)
Sticky tabs/tape (useful for rental housing or accommodation where you can't drill into the wall)
Hanging wire
Hanging chains
Desk stand

By default our neon signs come with the flat/flush to wall screw mount option. We recommend that customers consider upgrading to the mounting pins as this provides a nice neon back-glow effect.
What is the warranty provided with your neon signs?

2 years - We have a 2 year warranty on all of our neon signs.
What is the shipping cost? - and, delivery timeframe?

FREE - Our neon signs all include FREE Express Post shipping and delivery with UPS or Fedex.

Our delivery timeframes are typically 5-6 days.
What is your return policy?

If you have an issue with an order please contact our friendly customer service team - Typically we'll be able to help you within a couple of hours of contacting us - Phone or email.
Our happy customers said ..
Thanks for the excellent service Voodoo Neon.
The neon sign looks great.
The sign we bought looks great.
Eye-catching, and just like the design.
Bought a ready-made sign - It was good quality and works perfectly.
Recommended.