Frequently Asked Questions
These are some of most frequently asked questions.
General FAQ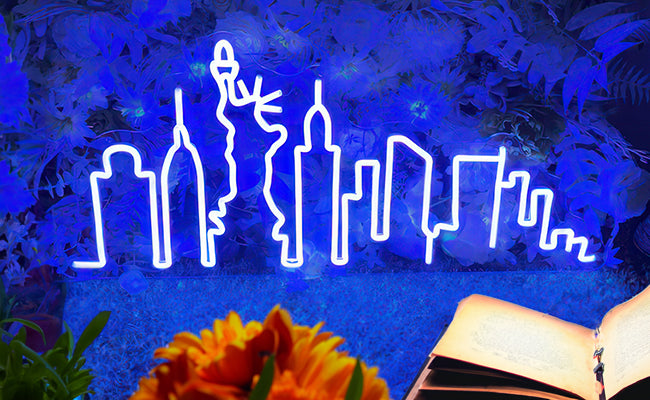 How much does a neon sign cost?

Typically neon signs cost between $200 and $3000.

Price will vary greatly based upon, sizing, complexity of the design, the amount of LED being used in the sign and any complexity of the specifications.

We provide a Free quotation process to help get the design you want turned into a neon sign - contact us for help on this.
How long does it take to make a neon sign?

Typically 2-3 days to make a sign. We have one of the fastest production lines in the industry.
Can you design the sign for me?

Yes - We have an expert design team, who've built thousands of LED signs over the years. We know what looks good, what works, and what it takes to make a high-quality sign that will look impressive in a bar.
How do I mount the neon sign?

We have many options on how you can mount your neon sign; including wall pins, wall screws, wall sticky pads, hanging wire, hanging chains and more - talk with our team about the options that best suit your situation.

We provide instructions on how to mount and install the neon sign.
Where is Voodoo Neon located?

Our company is registered and located in the United States - our head office is located in Utah.

Voodoo Neon HQ
3556 S 5600 W #1-472
Salt Lake City, UT 84120
United States
If I have a question or an issue how do I contact Voodoo Neon?
why should I choose to buy from Voodoo Neon?

We've distilled down our unique offer into a few points.

Well priced - We have the best quality signs at the best prices
Excellent Quality - We work with only the best neon sign manufacturers in the World to build the best quality neon signs
We offer a complete service for customers of all sizes. We have the expertise to design and build your neon sign perfectly.
2 Year Warranty - All of our neon signs come with a peace of mind 2 year (24 month) manufacturer warranty.
Electrical Efficiency - Our LED neon lights are the most efficient lighting system, and far exceed the old-school mercury, argon and helium neon lights of yester-year.
Safe to Touch - Our LED neon lights are safe to touch, don't get hot, and don't easily break.
Low maintenance - Our LED neon lights require very little upkeep - dust them off occasionally and they should last for many years.
Complete Control - Control the brightness, flashing, steady light, strobing effect and illumination type, and various other settings with our remote control (included with each order for free)
Easy to Install - Our lights come with a variety of options - hang from the ceiling, mount to a wall, chain on the wall and can be handled in many different ways. When you order, simply tell us the method of hanging or mounting.

Also, read our about us page.
What are the differences between LED and Glass neon signs?
Payment, Shipping, Returns & Warranty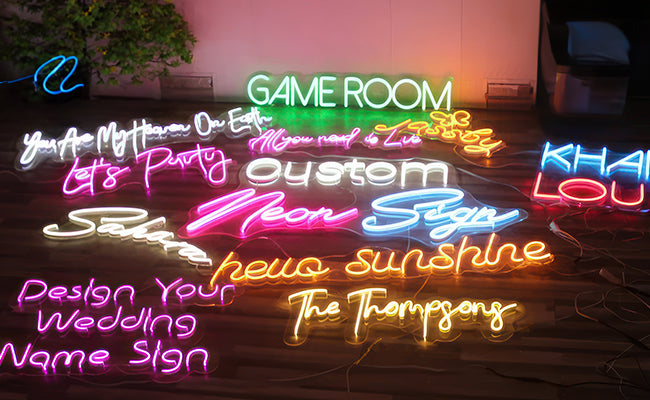 How long is delivery of neon sign?

Typically 5-6 days via Express Post.

Of the thousands of neon signs that we've made, we typically see 5-6 days postage.

All orders are sent Express Post.
What is the warranty on your signs?

We stand by the quality of our signs, we offer a two-year warranty covering the sign and electrical components under appropriate use.
What if the sign arrives and is damaged?

Please contact our friendly support staff and we'll work with you to help remedy. We don't want you to have a bad experience, or a non-working sign, so we'll do all we can to fix or replace your sign.

Please take some pictures and video of the sign, and send these to us.
What is the returns policy?

For all products we have a 24 month, 2 year, warranty. The warranty covers all electrical componentry and workmanship on the sign. We will not cover faulty installation.

Please read our returns policy.
What are the shipping terms and conditions?

If you wish to read our terms and conditions we have a whole page dedicated to our terms and conditions here >T&Cs page.
Products, Design & Manufacturing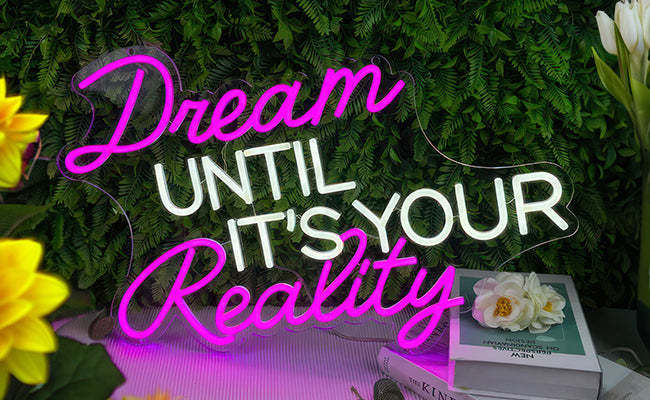 How many colors can I choose from?

We have 21 different colors to choose from.

We can use any of these, or even all of these, within a sign - you have complete final control on the approval of the design.

Contact us and we can share our color selection chart with you.
How many fonts can I choose from?

We have a library of over 100,000 fonts that can be used in our neon signs.

The font options on our signs are near-limitless!

If you want a specific font, we're most likely capable of creating a neon sign to suit.
Will I get a design concept?

Yes - All custom neon signs we work with you to finalize a design. We share concept designs with you, get feedback and adjust the designs in an iterative process until you have a design that you love the look of - Only then do we actually make the design into a functioning neon sign.
Do you offer a free design service?

Yes - Our custom neon signs all include a free design service.

Contact our team with your idea or inspirational images and we'll design to your specifications, and work with you to finalize that design.
What sizes of signs can you make?

How small? - Typically we can't build LED signs smaller than single letter signs about 12".

How big? - In terms of upper sizing limits, there are no restrictions. We can build upwards of 60' without any issues at all.

We can manufacture signs of almost any size however given there are limitations on safely sending via Express Post some signs can't be a single piece and need to be segmented - this is usually signs over 6-8 feet get segmented.

During the design process we will work with you to work out the best possible sizing.
Do your neon signs come with a remote controller?

Yes, no and maybe.

Yes - If they are an indoor sign, they come with a dimmer by default.

No - if they are a fully outdoor sign. Our dimmers are not weatherproof, they need to be kept out of the rain.

Maybe - If they are an outdoor sign, and you can install the power supply inside, and out of the weather, we can supply a dimmer controller.
Does the sign come with a power supply?

Yes - Our signs all come with a power supply to suit the sign. If the sign is large it could be 2, 3 or even 4 power supplies needed to power the sign.

If the sign is an outdoor sign, it comes with a weatherproof outdoor power supply to suit the sign power requirements.

All of our power supplies are UL tested and US certified.
Will this be able to be used outside?

We design both indoor and outdoor signs.

We can definitely help you with an outdoor specification neon sign - simply fill out the form on our outdoor neon sign page, and tell us as much about the sign as you can, any design, words, colors and fonts that you have in mind.

If you have any questions, please contact our team and we'll help guide you through the process.
What types of signs do you make?

We make any and all LED neon signs - our signs are made with LED strip lighting.

We make indoor and outdoor signs, LED light signs, lamps, channel letter signs, backlit signs and UV print signs.

We make signs for businesses, events and occasions, home decor and office decor. We make signs for everywhere and anywhere.
Are your power supplies US electrical certified?

Yes - All of the electrical components that we use in our neon signs are UL tested, certified and approved for use in the USA.
What is the backboard for? - What options do I have?

Our neon signs are all mounted on an acrylic backboard - this provides stability for the LED strip lighting. It is necessary and cannot be excluded, however we can cut that backboard to the bare minimum if you wish.

We can:

Cut to letter (near-naked neon - very close cut)
Cut to shape
Rectangle

Our signs are also capable of having UV printed backboards (to replicate your design 100%), or we can offer plain color backboards, or a clear backboard (default).
How are your neon light signs made?

Our neon signs are all made by hand, by expert craftsmen. We design to meet the exact design that you have approved - we trace, and mould the LED strip lights to the design, and match as closely as possible.

We use LED flex lighting strip, acrylic backboards, and silicon sealant, and UL certified electrical components, wiring and plugs.

We have a video on how our signs are constructed.
Questions?
Contact our expert team today!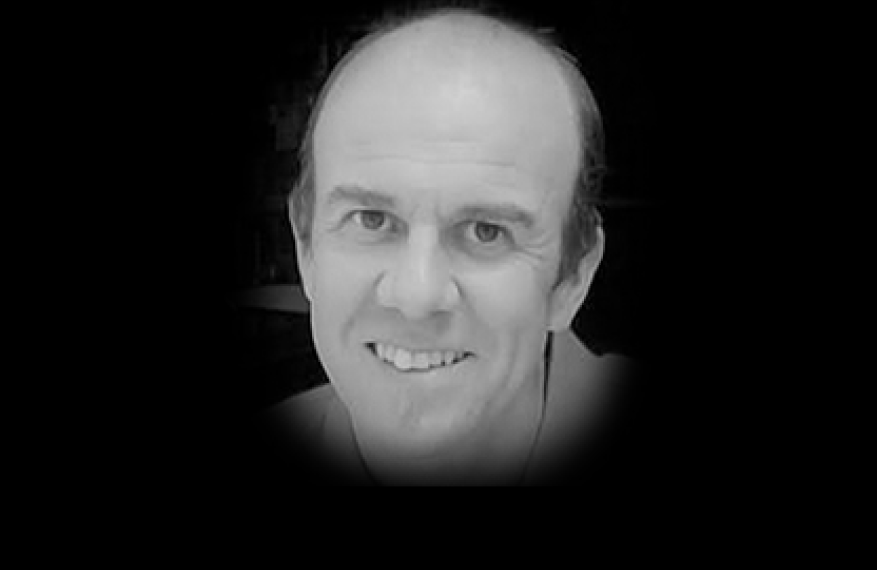 Chris is our expert home decor and neon sign master. He's compiled this list from years of questions from customers.
Founder of Voodoo Neon, and with over 20 years experience in online and selling neon signs, Chris has helped clients with their unique signage needs.
Our University Partners