We Turn Ideas Into Vibrant Custom LED Signs
At Voodoo Neon we have a dedicated team that works with individuals and businesses to help them turn their idea from a concept into a fully functioning custom LED sign.
The first step is for you upload a design or image, at which point we will contact you and create a compelling and vibrant concept design for your LED sign. If approved, we will then have our expert team hand craft that design into your working custom LED sign.
We've helped thousands of companies and individuals create business signs, wall art, logos, video game signs, wedding decorations, home decor and more.
FREE - no obligation chat with our team.
Enter your image or design above and let's get started on your project!
Clients who bought a custom LED sign say ..
Damn, these signs look BADASS! Great job!

I went with Voodoo Neon because of the speed & communication.
You guys knocked it out the park. They look amazing. The UV print and LED overlay signs for Teddy's Tiny Bites looks great.
I'm already thinking of how we can incorporate another custom sign into our store decor!
Created an amazing custom neon light for my entertainment room in the basement, matching the theme and style of my bar and decor.
Chris was fantastic to deal with and helped me get the right result - recommended!
Get a FREE Design of your Custom LED Sign!
Enter your details below and we'll come back to you within 1 business day with a mock design and quote.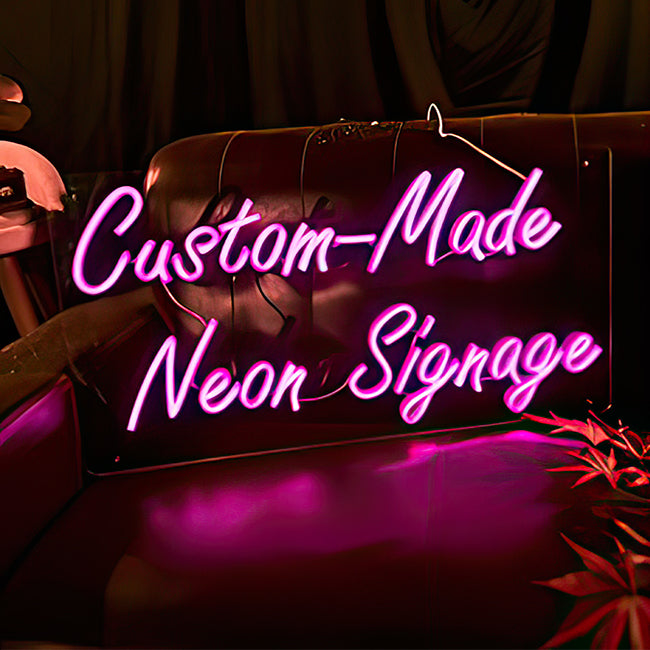 Custom LED Signs for Business & More
Get a little magic in your home or office. At Voodoo Neon we specialize in helping customers with custom LED signs and LED wall art. Whether you're looking for a personalized touch or something more elaborate, we can help turn your ideas into reality.
Our in-house design team, we can create custom neon lights that is sure to stand out.
We sell signs for business usage, home use and everything in between.
You bring the design, we bring the magic.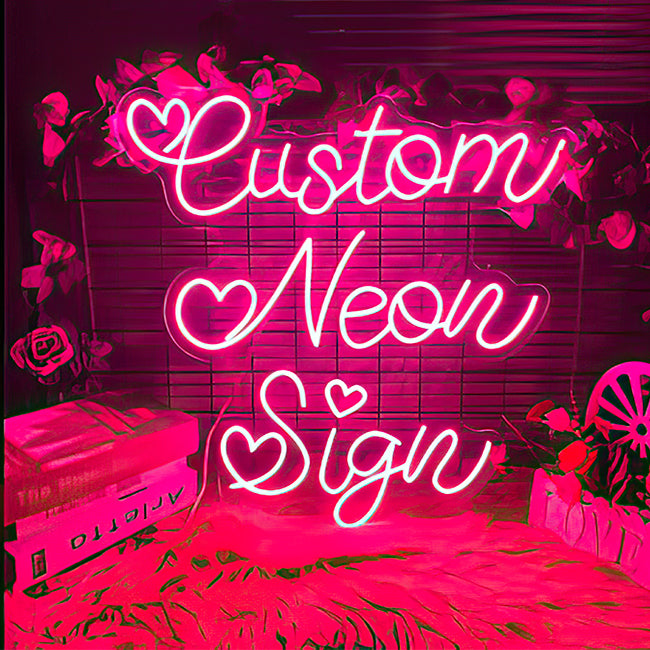 Customized & Personalized LED Signs
Our team are specialists in taking your design idea and weaving some voodoo magic and turning it into a wonderful and vibrant LED neon sign. From concept through to delivery our support team handle all of your requests in a professional and expedient manner.
We design and manufacture flexible custom LED signs, front/back lit channel letters, LED channel letters, logos and lightboxes for business and home use.
Enter your details above, to get started with your new personalized LED sign!
Experts at Designing & Building LED Signs
Want a Fully 100% Custom Neon Light to Suit Your Exact Requirements?

Here at Voodoo Neon we specialize in helping achieve your neon dreams - we turn ideas into reality. We will take any design, note, idea, plan, logo or more and turn it into a quality LED sign.

Custom neon lights have become an increasingly popular choice for businesses and individuals looking to add a unique touch to their spaces. These eye-catching, vibrant displays are an excellent way to create a memorable atmosphere and make a lasting impression on customers or guests. By choosing to buy a customized neon light, you can make a statement that truly reflects your brand, personality, or message.

One major advantage of a custom neon light sign is its versatility. Whether you need a striking storefront sign, an attention-grabbing event backdrop, or a one-of-a-kind piece of interior neon décor, these customizable light fixtures can be tailor-made to meet your specific needs and preferences. Additionally, LED signs offer the benefits of energy efficiency and a longer lifespan, making them an environmentally friendly choice for businesses and individuals alike.

When considering where to buy a handcrafted and custom LED sign, it's essential to prioritize quality and craftsmanship. Reputable manufacturers will use high-quality materials and expert techniques to create durable, attractive LED signage that stands the test of time.
Furthermore, by working with experienced professionals, you can ensure that your unique design is brought to life with precision and skill.

Custom LED signs provide an effective way to make a bold visual impact in any setting. In a business setting by opting for a unique design, you can achieve a truly personalized look that sets your space apart from the competition. To make the most of these vibrant lighting solutions, it's crucial to partner with a trusted neon manufacturer that offers top-notch products and exceptional customer service.

We are the experts in helping customers turn their unique designs, and ideas into fully functioning LED creations.

Let us weave a little Voodoo magic and bring your LED sign into life!
Common Questions About Custom LED Signs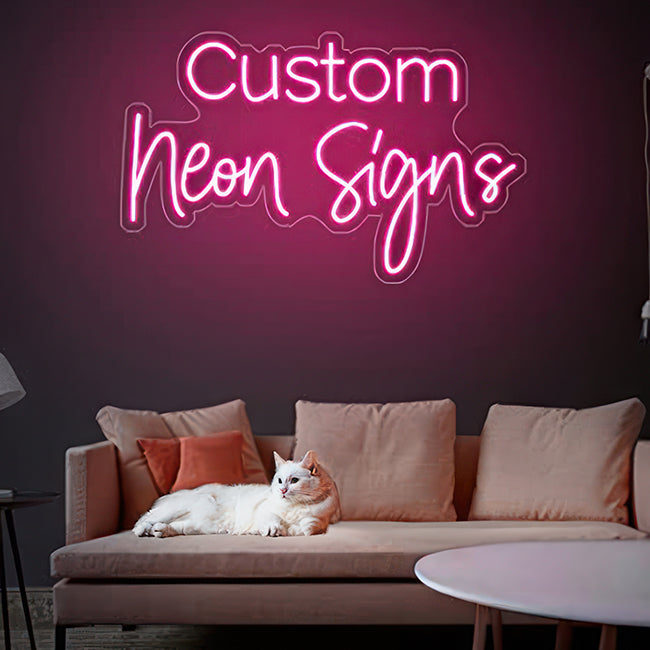 How much does a custom LED sign cost?

We have a specialist team that design and price the cost of our custom LED signs based on the design, the size and the complexity.

The amount of LED lights in the sign is a crucial factor in the pricing of an LED sign.

Most custom LED signs are generally priced in the region of $400-1700 - some cost less than this, some cost more.

Reach out to our team to get your quote and concept design.
How long does it take to make a custom LED sign?

Once designs are confirmed we typically have a turnaround time of 2-3 business days to make an LED sign.
How long does postage take?

Our Express Post postal service is with UPS and Fedex - we choose the fastest service for your particular order (size and weight).

Once dispatched from our manufacturing facility it takes 5-6 business days to receive your custom LED sign.
How many colors can I choose from?

We have 21 different LED light colors that can be used in a sign. You might want 1, 2 or 10 colors in your custom LED sign - this does not affect the price of the sign.
How many fonts can I choose from?

We have a font library of over 100,000 fonts we can use for custom signs. You can choose any font that you wish and we will be able to create an LED sign to match.
What is the warranty on a custom LED sign?

We offer a 2 year warranty on all of our signs. Simply contact our team if you have any issues at all.

We stand by the quality of our custom LED signs.
What are the mounting options?

We have several mounting options - including:

metal pins
flat/flush to the wall screws
3M sticky pads
hanging wire
hanging chains
table stands

We have an option to suit every situation. We can share a PDF showing these in more detail.
What is the power cord for a LED sign?

Our custom LED signs come with either a 120" or 200" power lead (dependant on the size of your sign).

All of our signs come with a US approved power supply (UL listed) and a US plug, for simple plug it in and it works functionality.
Can I get an outdoor LED sign?

Yes - We design and build outdoor LED signs - they are typically a little more expensive, and will operate in temperatures of -5F to 125F, in rain, snow and nearly all weather conditions.

LED signs are far more resilient than gas neon signs.
How small can an LED sign be?

Generally LED signs range in size from 28" wide or greater - this is very much design dependant.

There are technical limitations to a physical medium like LED strip lights and its use in signage. LED strip is 6-8mm wide, and this means certain designs need to be certain sizes to look professional.

e.g. Custom designed signs with double line fonts need to be larger to accommodate the spacing needed to be legible.

Our support team are happy to discuss how this might impact your specific design, please just contact us.
Do I get a dimmer with the LED sign?

Yes - We supply a dimmer and controller with all of our custom LED signs (except outdoor signs by default).

There are some technical limitations on dimmers for outdoor signs, but we have workarounds which we can discuss with you. Reach out to our team for more details.
How much does an LED sign weigh?

The weight of an LED sign varies based on the size of the sign, but typically 3-4kg for a 35-40" wide sign.
Will a plasterboard wall be able to support an LED sign?

A typical 35-40" LED sign will weigh approximately 8 lbs. It will have 6-8 mounting holes and those points are spread over the sign to balance load.

A plasterboard wall can handle about 20 lbs per 6" (1/2 foot).

Given the multiple mounting points, a typical 35" sign will have about 0.5 to 0.7 lbs per anchor point, or about 1.5 lbs square foot. These number are clearly well under the threshold for the plasterboard wall.

With this in mind, you could hang 2 typical 40" LED signs from a single anchor point and still be under the threshold for the plasterboard.

The result is, a standard plasterboard wall can safely support the mounting of an LED neon sign, no matter the size.

A wider or taller LED sign has more mounting holes, and thus spreads the load over more plasterboard area. A smaller LED sign obviously weighs less.

Either way, our LED signs are far less than the weight guidelines for plasterboard mounting.
Still unsure?
Contact our expert team about your idea.
Brands That Trust Us