We Make Neon Signs for Bars, Venues, Nightclubs & Home
As a bar owner, you're probably looking for ways to make your establishment stand out and attract patrons. One of the most effective ways to achieve this is through the use of eye-catching and engaging neon bar lights.
A neon bar sign is the perfect solution for adding that extra touch of excitement and flair to your bar's atmosphere.

We help any establishment or venue take their ambiance to the next level with amazing custom signs designed specifically for bars.
Talk to our team today, about how we can make a custom neon bar sign to suit your needs!
Customers who bought a neon bar sign from us said ..
Our neon bar lights look great.
Home bar is now sorted! - thanks Voodoo!
Bought some signs for our upstairs bar. Easy working with Chris, and fast delivery.
It feels warmer and more welcoming.
Owner is super happy!
Bought 4 different beer brand bar signs. The neon is bright and loud - precisely what we wanted for our bar. The LED lights are great.
Cheers to Chris and Voodoo - Ya'll are the best for helping us out.
FREE Design & Quote for a Neon Bar Sign
Tell us about the neon signs you need for your bar and we'll come back to you within 1 business day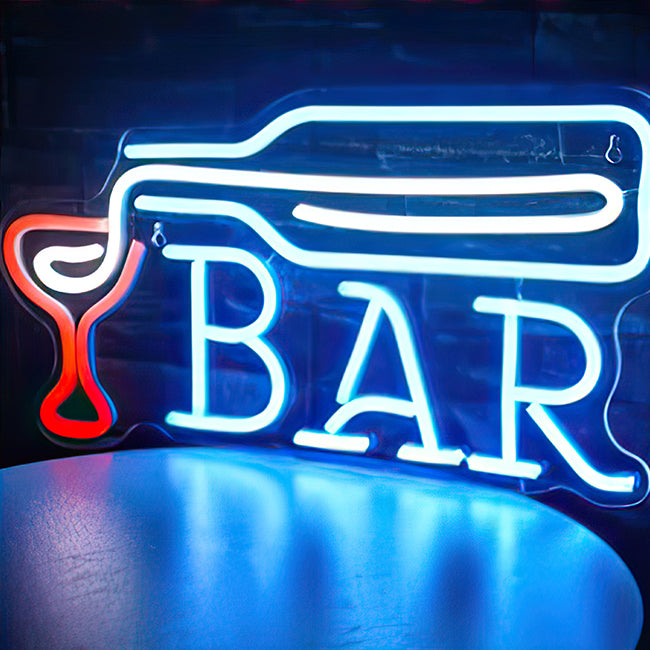 Make your bar eye-catching and radiant
Step into a world of vibrant illumination with Voodoo Neon's striking neon bar signs and lights. These aren't just ordinary signs; they're your ticket to creating an energetic ambiance that keeps your guests entertained and coming back for more.
Each custom neon bar sign, crafted with precision and passion, is a celebration of color and creativity. The LED lights are not only stunningly radiant but also energy-efficient, giving you the perfect blend of aesthetics and sustainability. Every light-up sign is designed to be a conversation starter, a unique piece of decor that validates your taste for the extraordinary.
The versatility of Voodoo Neon bar signs extends beyond just their visual appeal. They are crafted with longevity in mind. Each LED bar sign promises durability that matches its luminous charm, ensuring that your investment continues to light up your bar and space for years to come.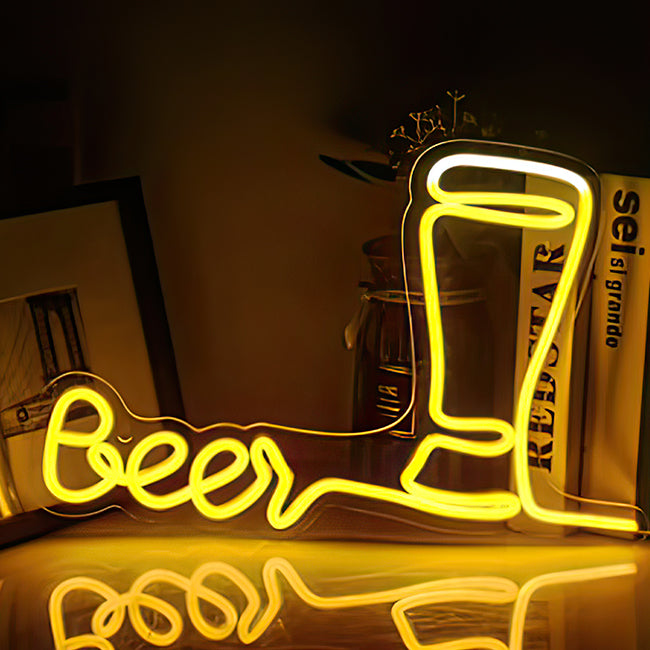 A bar isn't complete until it has neon signs
Cliche or not, the expression is true - no bar is complete without having several neon signs.
Our neon bar lights are more than just products; they're experiences tailored to resonate with the atmosphere of your bar. Whether you're looking to create a laid-back vibe or an energetic pulse, our collection has something to suit every mood and décor style.
Designed exclusively in the USA, these dynamic pieces embody the vivacious spirit of nightlife and celebration. With each neon bar sign, you'll feel as though you've brought a slice of the vibrant city night right into your establishment.
Voodoo Neon takes pride in being a brand that champions innovation and customer satisfaction. Our supportive team is always ready to help you choose or customize the neon bar light to fit perfectly with your vision.
So why wait? Dive in, talk with our team about the custom signs you need for your bar and elevate your bar's ambiance from ordinary to extraordinary! Let Voodoo Neon illuminate the path to unforgettable nights filled with laughter, cheers, and memories waiting to be made.
Common Questions about our Bar Neon Signs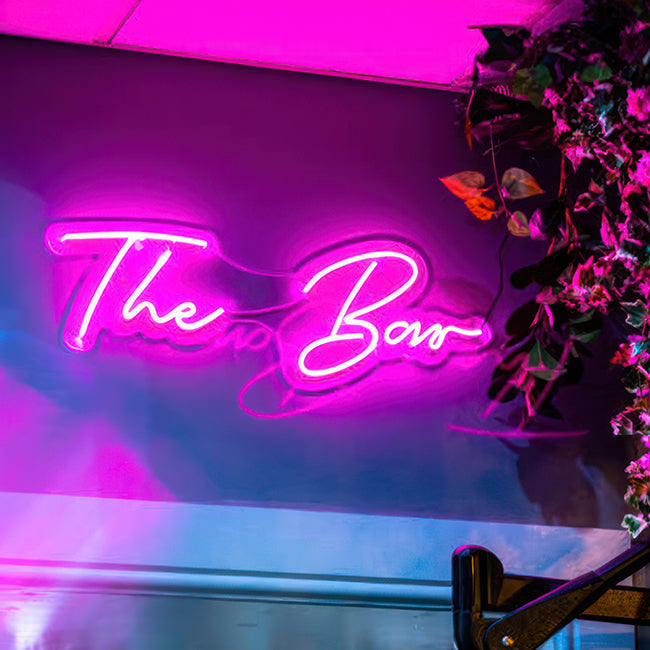 What are the most popular neon signs for a bar?

Anything to do with beer, wine, cocktails, or champagne are mainstays in bar decor and also anything including the word "Bar" are very popular. We have a lot of these signs pre-designed in our ready-made collection below.

One other popular range are the "selfie-attracting neon signs" - like the Angel Wings, Devil Horns, and Naughty Corner neon signs. These draw people to take pictures and share on Instagram.
Do you make custom signs for bars?

Yes - We make custom signs and logos for bars and nightclubs. We design and build neon signs for various areas in bars - e.g. taproom and VIP sections.

We can work with any design that you want made into a neon sign.

We work with you to design the sign, and iterate feedback with design revisions until the sign is perfect and to your liking.
How long does it take to make a neon sign?

Typically 2-3 days to make a sign. We have one of the fastest production lines in the industry.
How long is delivery of neon sign?

Typically 5-6 days via Express Post.

Of the thousands of neon signs that we've made, we typically see 5-6 days postage.

All orders are sent Express Post.
How do I mount the neon sign?

We have many options on how you can mount your neon sign; including wall pins, wall screws, wall sticky pads, hanging wire, hanging chains and more - talk with our team about the options that best suit your situation.

We provide instructions on how to mount and install the neon sign.
Do your bar signs come with a remote controller?

Yes, no and maybe.

Yes - If they are an indoor sign, they come with a dimmer by default.

No - if they are a fully outdoor sign. Our dimmers are not weatherproof, they need to be kept out of the rain.

Maybe - If they are an outdoor sign, and you can install the power supply inside, and out of the weather, we can supply a dimmer controller.
How many colors can I choose from?

We have 21 different colors to choose from.

We can use any of these, or even all of these, within a sign - you have complete final control on the approval of the design.

Contact us and we can share our color selection chart with you.
How many fonts can be used?

We have a library of over 100,000 fonts that can be used in our neon signs.

The font options on our signs are near-limitless!
Can you design the sign for me?

Yes - We have an expert design team, who've built thousands of LED signs over the years. We know what looks good, what works, and what it takes to make a high-quality sign that will look impressive in a bar.
Does the sign come with a power supply?

Yes - Our signs all come with a power supply to suit the sign. If the sign is large it could be 2, 3 or even 4 power supplies needed to power the sign.

If the sign is an outdoor sign, it comes with a weatherproof outdoor power supply to suit the sign power requirements.

All of our power supplies are UL tested and US certified.
Will this be able to be used outside my bar?

We design both indoor and outdoor signs for bars.

We can definitely help you with an outdoor specification neon sign - simply fill out the form on our outdoor neon sign page, and tell us as much about the sign as you can, any design, words, colors and fonts that you have in mind.

If you have any questions, please contact our team and we'll help guide you through the process.
What is the warranty on your signs?

We stand by the quality of our signs, we offer a two-year warranty covering the sign and electrical components under appropriate use.
Ready-Made Neon Bar Signs
If you don't need a custom neon sign - here are some of our best selling ready-made neon signs for your bar.
Questions about your bar decor?
Contact our expert team today!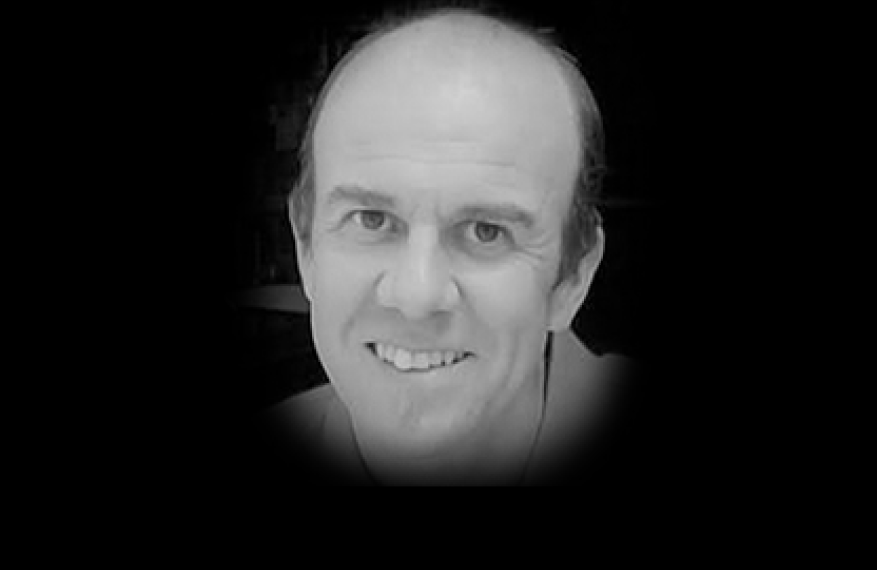 Chris is our subject matter expert whose vast experience in helping bar and nightclub venues build custom neon signs to suit their venue. With over 20 years experience in online.

He has worked with many bar and nightclub owners to build welcoming and vibrant bar interiors that draw patrons in and keep them.

Founder of Voodoo Neon, Chris has worked with many venues since 2008, helping them build the perfect bar decor.
Brands That Trust Us