We Make Neon Gym Signs to Inspire & Motivate
As any gym patron will say, some days you have ups, osme days you have downs, but being consistent and challenging yourself to do more, push more, work harder is what sets the best apart from the mediocre.
We made it our goal to use inspirational signs to motivate and challenge. Sometimes all it takes is a glance at a well placed neon sign in the gym, to encourage you - like a "BE BETTER EVERY DAY" neon sign, right next to the bench press. It'll encourage and challenge those nearby.
Get one of our neon gym signs today!
Clients who bought a neon gym sign from us said ..
Bought a sign to go in my outdoor gym - works perfectly, bright, and loud. I like it.
Thanks!
The signs fit in perfectly to our gym. Lots of customers have commented on them.
I think they'll help keep people focussed.
When I work out in my home gym I'm constantly reminded to remain present, and keep pushing. It surprised me how much the inclusion of a neon sign kept me there in that high intensity zone - just the little nudge I needed I guess!
FREE Design & Quote for a Neon Gym Sign
Tell us about the neon gym sign you need and we'll come back within 1 business day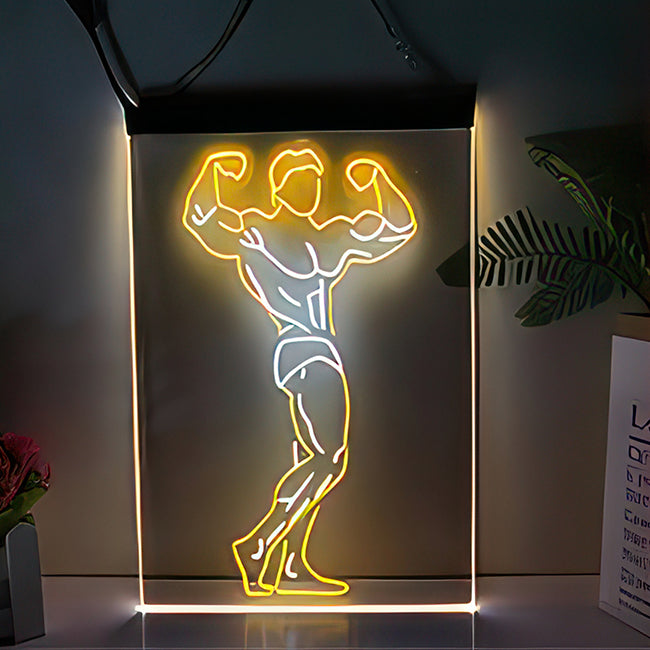 Make your gym eye-catching and vibrant
Step into a world where fitness meets style and inspiration with our custom neon gym signs. We're not content to say they are just signs, they are motivational and inspirational statements designed to encourage. A beacon of motivation that warms your space with its radiant glow, encouraging you to push your limits and redefine your boundaries.
Crafted with energy-efficient LED lights, our gym neon signs not only illuminate the space but also uplift your spirits and ambiance. We work with our clients to tailor a design to suit their specific requirements. Workout neon signs can be vintage is style - like. a silhouette of Arnold Schwarzenegger posing, or Lou Ferrigno. Our neon signs blend into any gym decor, can be subtle in their touch points and locations, while adding the motivational push needed sometimes - it's the message that truly sets our signs apart.
Our gym signs are more than mere words; they're the embodiment of a mindset, a testament to your commitment to fitness and self-improvement.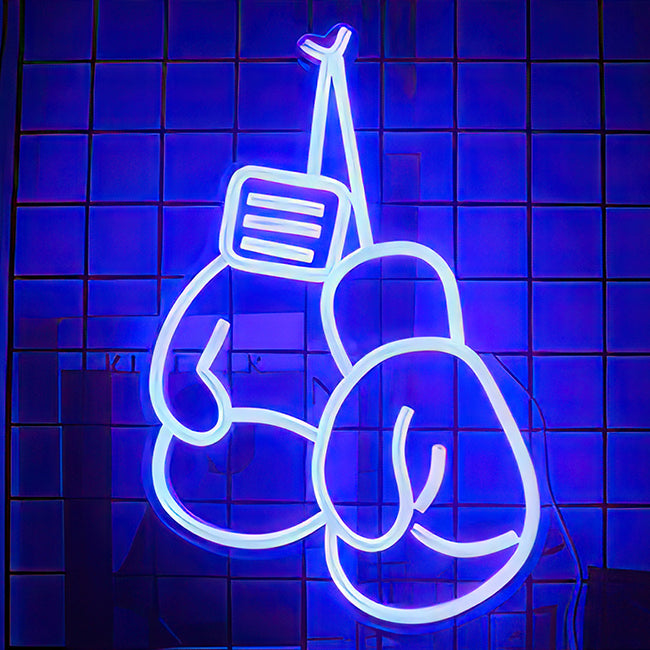 Challenge with inspirational messages
We design our neon gym signs so that when patrons glance at them it serves as a reminder of their fitness goals, pushing them to strive harder, lift heavier, and run faster. Ideal for both commercial and home gyms, our custom neon gym signs are tailor-made to suit you and your gym space. We seek to enhance an active lifestyle with complimentary neon wall art. Motivational signs set the tone and mood for rigorous workouts, challenging to turn an ordinary workout session into an extraordinary one.
Experience the power of motivation like never before with one of our workout neon signs. Every detail is crafted to perfection, ensuring longevity and durability without compromising on style or energy efficiency. It's not just a gym accessory; it's a symbol of your determination, a reflection of your passion for fitness.
Our gym neon signs are more than just another piece of gym equipment. Don't just train hard, train in style with Voodoo Neon's custom signs - an inspiration that shines as brightly as your resolve.
Common Questions About Our Neon Gym Signs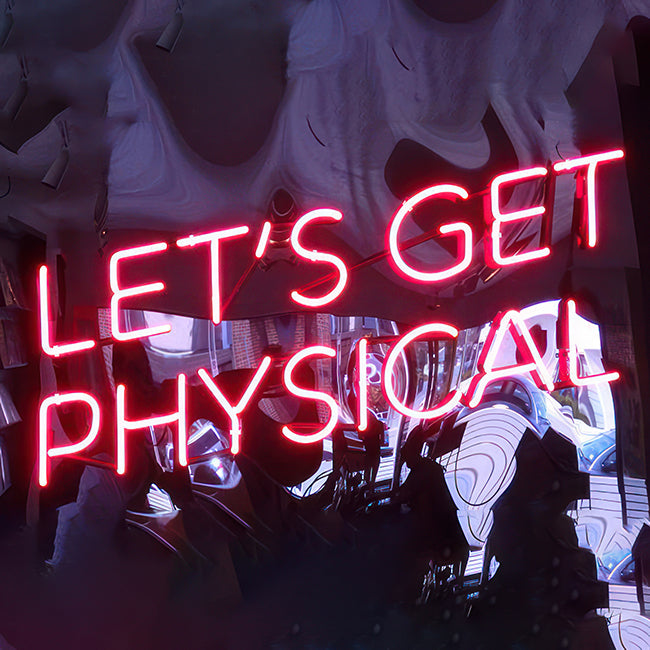 Why buy a neon sign for a gym?

To answer in short - motivation and ambiance.

A neon sign in the gym, in the right location, and observed in a moment glance by a gym goer can provide just that little extra kick in motivation that is sometimes needed when working out. e.g. "Don't Quit", "Be Strong", "Work Harder Every Day" - inspiring messages to challenge the mind and body to push harder.

Neon signs add a warmth, and glow to a gym, which is unparalleled.
How much do neon gym signs cost?

For ready-made signs its in the range of $200-800, for custom neon signs it's typically in the range of $400-1500.

The price of a neon sign depends on the size, complexity and design.

Talk with our team for a FREE consultation.
What are the most popular inspirational signs for a gym?

The most popular signs to use in the gym are definitely the inspirational signs.

"Don't Quit", "Beast Mode", "Strong if the New Sexy", "Stay Strong". These all deliver the powerful motivational message, and drive greater performance from gym goers.

View our ready-made collection, or talk with our design team about a custom sign for your gym.
Can I choose my own design?

Yes - We can completely customize a neon sign for your gym, based on an idea you have, a design you have, or a logo of your gym.

Our team are experts in taking any of these and turning them into working neon signs you can put up on your workout space wall.
How long does it take to make a neon sign?

To make our neon gym signs is typically 2-3 days of manufacturing time. Our team hand-make every sign, this is all handcrafted by one of our experts.
How much time for delivery?

Our delivery timeframes are about 5-6 days.

We send all orders by Fedex or UPS - for the fastest, most secure and trusted method of delivery.
What is the warranty on your neon signs?

All of our gym signs come with a 2 year warranty.
Where should I position a neon sign in the gym?

The obvious answer is where you think the sign will have the greatest impact.

As an example, we recommend signs like, "Be Strong", "Stay Strong" maybe near the squat machines, or near the dumbbells and benches.

For signs like, "No Quit", "Beast Mode" maybe these are best positioned near the cardio equipment.

Choose the inspirational sign specific to the location you want to use it in. Inspire patrons with messages in neon that will challenge them to lift, and ensure.
How many neon signs do I need in a gym?

This is a personal preference - We're sure once you one, you'll get positive comments and end up buying more. We see it all the time - and that's fine, it's good to try out a couple first.

Think of neon signs as tools to trigger and challenge the people in your gym.

If you do that, then how many areas do you think your gym goers need that push or inspirational message?

One or two for the bench and dumbbell area, 3 for the cardio room, one for the foyer (with your logo), and 2 for the room with classes. This kind of setup might sound reasonable once you have decided your gym needs this kind of decor.
Ready-Made Neon Gym Signs
For those who don't need a fully custom neon sign here are some of our best ready-made neon signs for gyms
Questions about how neon signs can inspire in your gym?
Contact our team for help!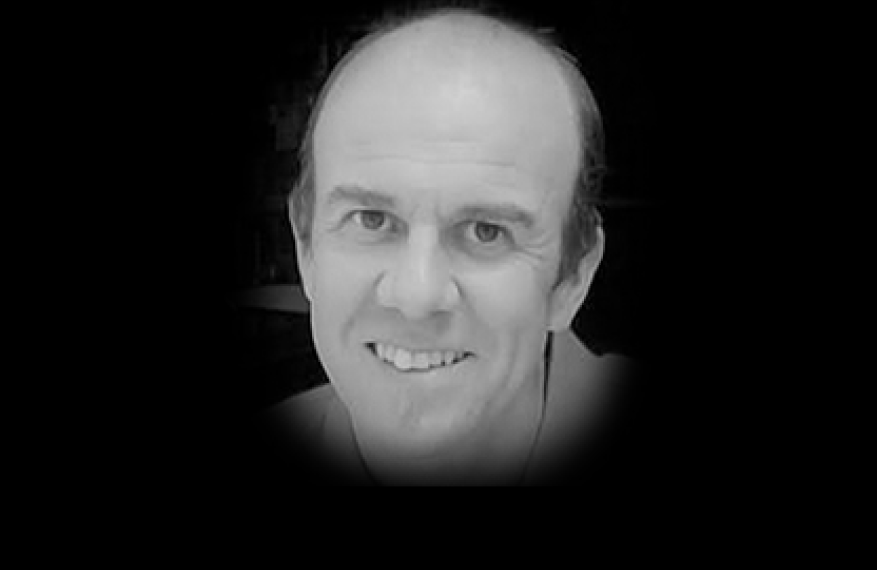 Chris has helped numerous gyms design and build custom neon signs specifically for their gymnasium or workout space.
With experience in interior decor, Chris brings his skills in making inspirational signs to the gym, to produce welcoming, and challenging environments for gym patrons - the neon sign messages will deliver motivation, and drive gym patrons to greater heights in their athletic performance.
Founder of Voodoo Neon, Chris has worked with many gymnasium owners since 2008, helping them build the perfect gym decor.
Brands That Trust Us