We Make Stunning Neon Wedding Signs for Event Decor
Your wedding is the most special day you'll probably ever have. In front of your friends and family you commit to a life of love and care with the one you love the most.
There are hundreds, if not thousands of photos. The backdrop and decor of your wedding event is crucial to make those photos and life long memories as special as you feel the day is.
It is this ethos we embed in every neon wedding sign that we design and create. We take pride in knowing that our neon signs will be seen in wedding photos as backdrops, and will be kept on walls in homes of the married couple for years to come.
Our neon signs feature as backdrops, welcome signs, and behind the happy couple at nuptials. Our neon wedding signs are designed to be photogenic, and instagrammable.
Talk with us about how we can make a custom neon wedding sign for your upcoming special day!
Clients who bought a neon wedding sign from us said ..
I bought 4 neon signs for my daughters wedding - a custom sign with their names on it, and 3 different love heart signs.
It was a rush order. It was made within 1 day, and I had them 5 days later (even though the delivery company had a problem with my address)
Voodoo Neon exceeded my expectations, thank you!
Thank you for the custom sign + the welcome sign.
The signs were used in the backdrop at our reception and the entrance.
The photos look stunning!
The wedding signs were great, really set the color and warmth I wanted at the wedding.
Client was super happy with the backdrop colors and feel of the event. Worked perfectly. Photos are gorgeous.
I think they put them up on their wall at home after the event.
FREE Designs & Quotes for Neon Wedding Signs
Tell us about the neon sign you need for your wedding and we'll come back to you within 1 business day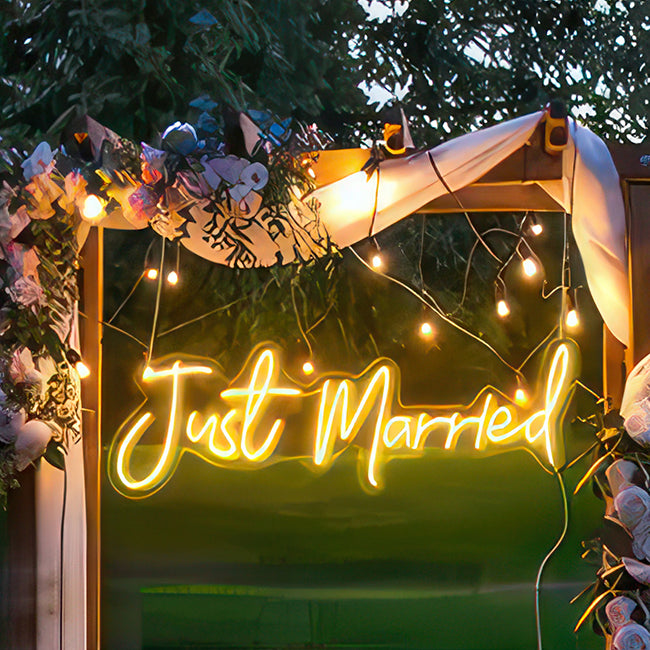 Enjoy the radiant ambiance
Illuminate your special day with our stunning neon wedding signs. Crafted to captivate, our gorgeous neon signs and wedding artwork add a unique, vibrant touch to your wedding decor, making every moment Instagram-worthy. Our custom neon wedding signs are tailored to suit your precise needs - always making a breathtaking backdrop for your most cherished wedding day memories and pictures for years to come.
Our team are highly skilled in designing signs that have the color, and boldness to make the impact you want in your photos.
Our neon signs are more than just a wedding decoration - they are a statement of love and celebration light up in bright LED lights.
The radiant glow of the neon lights sets an ambience that is both romantic and lively - creating an ideal setting for celebrating nuptials.
Our custom neon wedding signs are not only pretty but also robust and reliable - Designed to withstand the hustle and bustle of a busy wedding reception while constantly glowing, casting a beautiful warm light over your event.
Our signs are easy to install and manage, ensuring you have one less thing to worry about on your big day.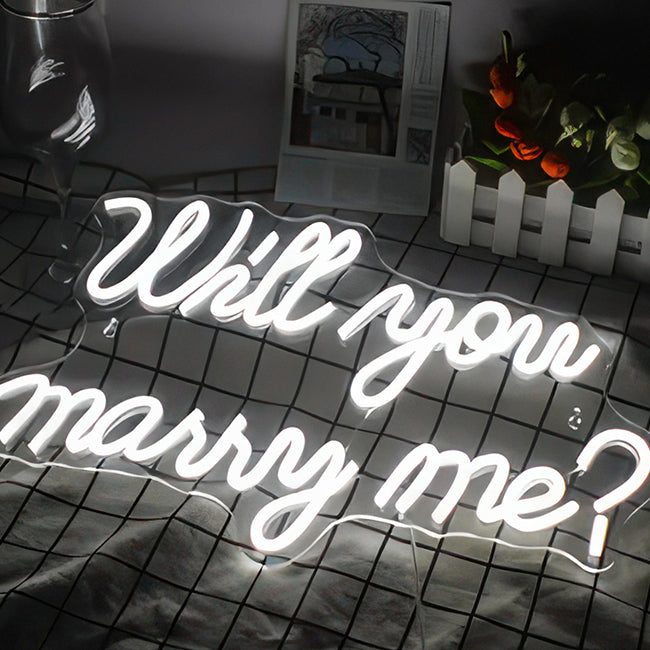 Instagrammable photo backdrops
Whether it's for video or photo backdrops, a neon wedding sign will make every frame pop with it's vivid colors - post it straight to Instagram!
At Voodoo Neon, we understand that every wedding is unique and individual. That's why our neon wedding signs can be fully customized to match your specific needs. We are committed to delivering top quality, where our neon signs not only meet but exceed our customers expectations.
Contact our team to help them organize a custom neon wedding sign for your special day, and you too can add a dash of vibrancy and charm to your nuptials. Let Voodoo Neon illuminate your love story in the most mesmerizing way possible.
Common Questions About Our Neon Wedding Signs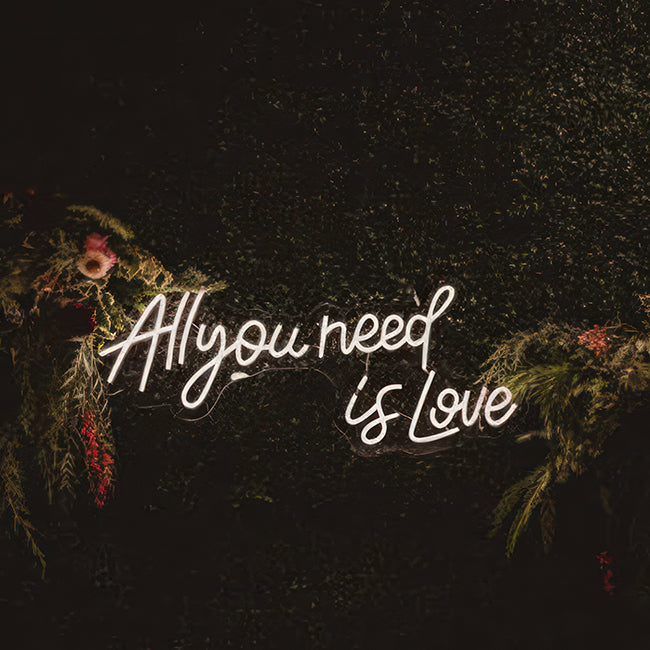 How much do neon wedding signs cost?

For a ready-made wedding sign they range in price from $150-$600.

For a custom-made sign for a wedding it can range in price from $400-1800.

Pricing depends on the design, the size, and the complexity of the sign.

Talk with our team - they are experts in helping the groom and bride design and build a neon sign for their wedding!
How quickly can you build a neon sign?

It takes 2-3 days to design and build a neon sign.
How long does shipping of the sign take?

we use Fedex and UPS for all of our parcels, and this is typically 5-6 days for delivery to all of the USA.
How many color options do you have?

We have 21 colors of LED lights we use in our neon signs - you can choose to use any number within your own sign.
What do people do with neon signs after the wedding day?

Most often we see our customers re-purpose their neon wedding sign into using it on a wall at their home.

Our neon signs are easy to transport, we suggest keeping the box to use for safe passage and moving it around easily and without breakage.

Mounting on a bedroom wall, or in a living space wall is common.
Does the sign come with a dimmer and controller?

Yes - all of our indoor signs come with a dimmer and controller, so you can tone down the brightness.
Why do people have a neon sign at their wedding?

The main reasons we hear about are:

Neon signs have impact, bright and bold
Neon signs add to the ambiance of the wedding venue (high quality lighting sets the mood)
A neon sign serves as a perfect backdrop in photos and Instagram posts
A neon sign is a bold expression of love and draws the eye
If I ordered today when would I get the neon sign?

We need 2-3 days to make the sign, and 5-6 days for Express Post of the sign.

Most customers receive their order within 9 days after ordering with us.
What are the most popular neon signs used at weddings?

The most popular neon signs are:

The large array of ready-made "Love" signs that we stock
"Mr & Mrs" neon sign
Custom name signs to suit the bride and groom
Our ready-made love heart signs
Can I design my own personalized neon sign?

Yes, absolutely - We know that your wedding day is probably one of the most special days of your life. Our team work with brides and grooms every day to help them design a neon sign that is customized to suit their specific wants and needs.

Talk with one of our team about the neon sign you want for your wedding.
What is the warranty on the neon wedding sign?

Our neon wedding signs all come with a 2 year warranty.

If you're planning on using the neon sign at your wedding event or reception, then we suggest keeping the box and using it to transport the sign to and from the event safely.
Ready-Made Neon Wedding Signs
If you're looking for a sign for your wedding and don't need a custom sign, consider our ready-made wedding signs.
Questions about how neon signs can be used in a wedding?
Contact our team for help!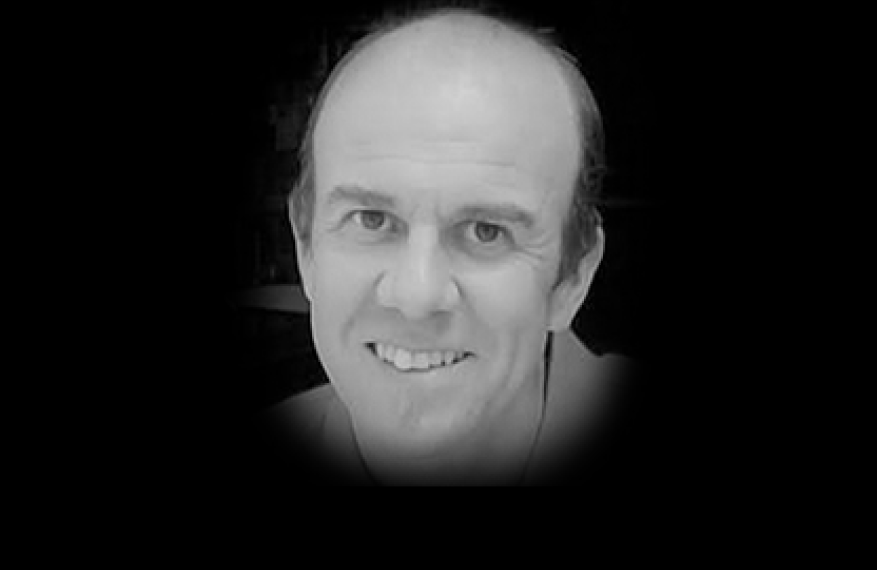 Chris has helped many customers who are planning weddings design and incorporate neon signs into their special day.
A neon welcome sign at a wedding, a Mr & Mrs sign as a backdrop, a love message behind the document signing table, love hearts around the venue of the wedding, and there are many other uses for neon signs in a wedding.
Contact our team and we can help you with a range of custom neon lights and signs for your wedding!
Brands That Trust Us