We Make Striking Neon Signs for Podcasts & YouTube Backgrounds
We've worked with several YouTubers and podcasters to create neon signs of their brand or unique message that they use within their podcast.
We're experts in creating neon signs for backdrops in podcasts, videos and images. We design and build fully custom neon podcast signs to precisely suit our clients needs.
Take your channel to the next level with a professional neon podcast sign - Contact us today!
Youtubers & Podcasters who bought a neon sign from us said ..
Perfect for the background on my YouTube channel. Quality, tight design, and matched to my brand.
The LED lights are strong and at full brightness maybe a touch too bright - having the dimmer is good to adjust it down a touch.
Thanks!
I use mine for background in my YouTube channel - Looks sweet.
Easy setup, and appreciated the suggestion from Shila to get it on a stand - so it can sit on my backdrop shelf. Easy hide cord, and dimmer to control brightness.
Works well, I feel professional now!
Thanks to Chris and the team - helped me out with the neon sign for my channel. Matches my logo precisely.
Recommended.
FREE Design & Quote for a Neon Podcast Sign
Send us some details about your podcast and we'll design a neon sign to suit your needs within 1 business day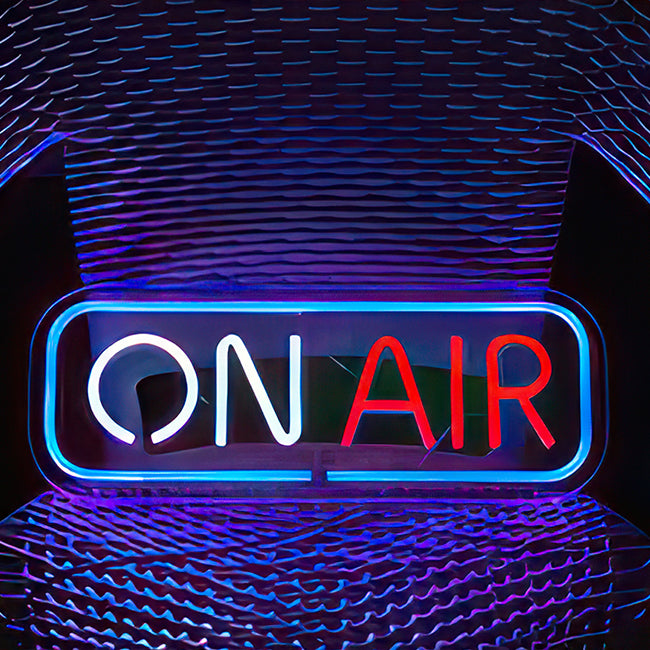 Podcast background ideas
A custom neon podcast sign is more than just a decorative piece; it's a potent tool for branding and creating an engaging visual identity. It entices viewers while subtly reinforcing your brand presence in their minds. Consider it an investment in your podcast or YouTube channel's future growth and popularity.
Voodoo Neon prides itself on crafting high-quality LED signs that are energy efficient and durable, ensuring longevity and cost-effectiveness. With our easy-to-install neon signs, transforming any space into an inspiring studio becomes effortless.
Experience the magic and allure of glowing neon with a neon podcast sign from Voodoo Neon - as a podcast background idea there is nothing more potent and bold than a neon sign (just ask Joe Rogan about his neon sign!). Let a neon sign be the beacon that guides you towards more engaging content creation and successful branding. Contact us today about your new podcast sign!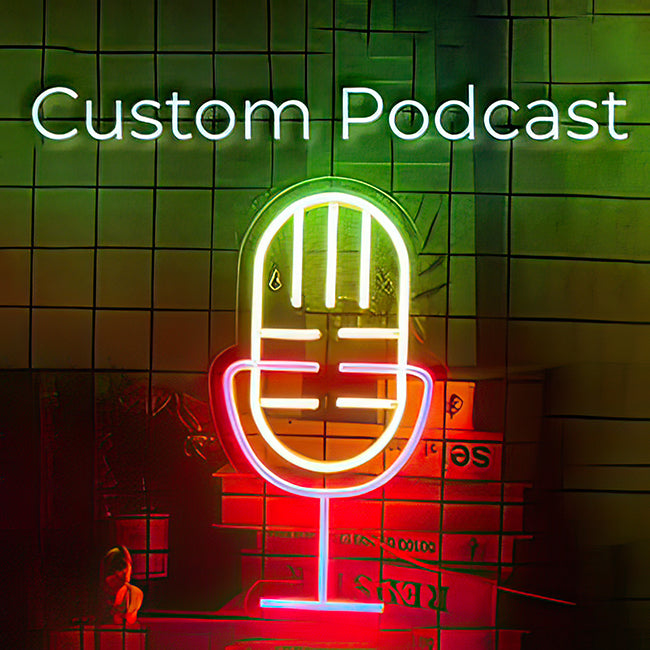 Be bold, be authentic, choose custom
Just like the professionals you too can make your podcast background bold and vibrant with the glow of neon podcast sign. A custom neon sign is exquisite and tailored to your needs. As all passionate podcasters and YouTube creators know the backdrop of the podcast sets the scene and communicates a messages subtly to the viewers.
A neon sign serves as a brilliant addition to any studio or creative space. With its vibrant LED lights, this neon sign not only brightens up your surroundings but also amplifies your brand's visibility.
Crafted with meticulous precision, our custom neon YouTube signs capture the very essence of your creativity and brand. The LED lights are engineered to provide optimal brightness, ensuring that your logo or brand name shines brilliantly against any backdrop. Whether it's for a podcast recording or a YouTube video shoot, this sign adds a touch of professional charisma that is difficult to ignore.
One of the key highlights of our process is that we can design and build a fully custom sign - you can tailor a sign to match your individual style and brand. Use a brand, logo, message, or whatever you wish in any color, font or size we offer endless possibilities for customization.
Common Questions About Podcast Neon Signs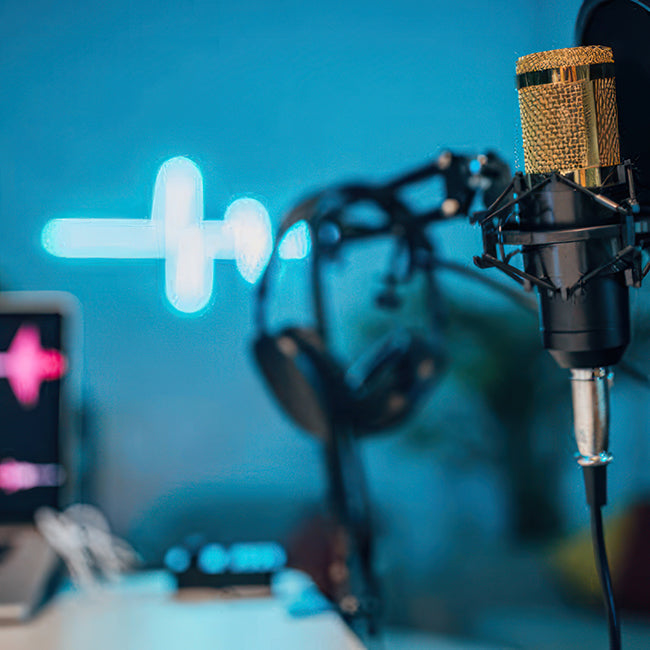 Why buy a neon sign for a podcast?

There are number of good reasons:

Neon signs provide a perfect backdrop to any podcast or YouTube channel video
A neon sign adds to the ambiance in a video
A neon sign adds mood lighting to the background of a video
A neon sign looks professional and sets the scene (even if you are a small podcast channel)
Neon signs draw the eye, and provide a 2 level focus point (you + the backdrop)
Will it be too bright if its near me or in the background?

All of our neon signs come with a dimmer, so you can precisely control the brightness. We suggest testing the brightness level of the neon sign to achieve the right level, when combined with distance from the sign to you, and the sign to the camera.

We can provide some expert advice on this, just contact us to work out the sizing of the sign and appropriate distance for your backdrop.
Are neon signs safe to use if sitting close?

Yes - our neon signs are perfectly safe to use, and sit close to. They are very low temperature, safe to touch and are safe sit near or be near other items.
What are popular neon signs for podcast backgrounds?

Podcasters mostly choose their own custom logo, but you can also buy a "Live Now", or "On Air" neon sign from our ready-made collection.

Some podcasters we've worked with buy both a custom sign of their channel logo, and a ready-made sign. They use one sign in the foreground, one in the background.
Can I choose any color to use in the sign?

We have a total of 21 different color LED lights we can use in our neon signs - we can closely match your logo or design with our range of LED lights.
How long does it take to make a neon sign?

Nearly all of our signs are made within 2-3 days. We work closely with our clients to design and build signs within this timespan.
How long is shipping of a neon sign?

We use Fedex and UPS for all of our neon signs, and this we typically see 5-6 days in shipping.
What size of neon sign should I buy for a podcast background?

The size of the sign differs and depends on the design of the sign and the distance of the intended mounting spot and the camera lens.

Typically you want to have the neon sign take up about 40-60% of the background space, and this should allow you to size appropriately, and adjust either the design, the size of sign or the camera location.
Why not just buy a cheap sign instead?

If you want your podcast to look professional, you can't do that with cheap backgrounds and equipment.

Investing in a high-quality podcast sign is like investing in yourself - it represents what your podcast is about, who it is and it's personality.

Bear this in mind with cheap neon signs - they just don't look professional, don't last long, and this will carry over into the podcast itself.
What is the warranty on a podcast sign?

Our neon signs all come with a 2 year warranty on electrical components, under a fair use policy.
Ready-Made Neon Signs for Podcasts
No need for a custom sign then consider our ready-made neon signs for your podcast and YouTube backdrop.
Questions neon signs for podcast backgrounds?Contact our support team!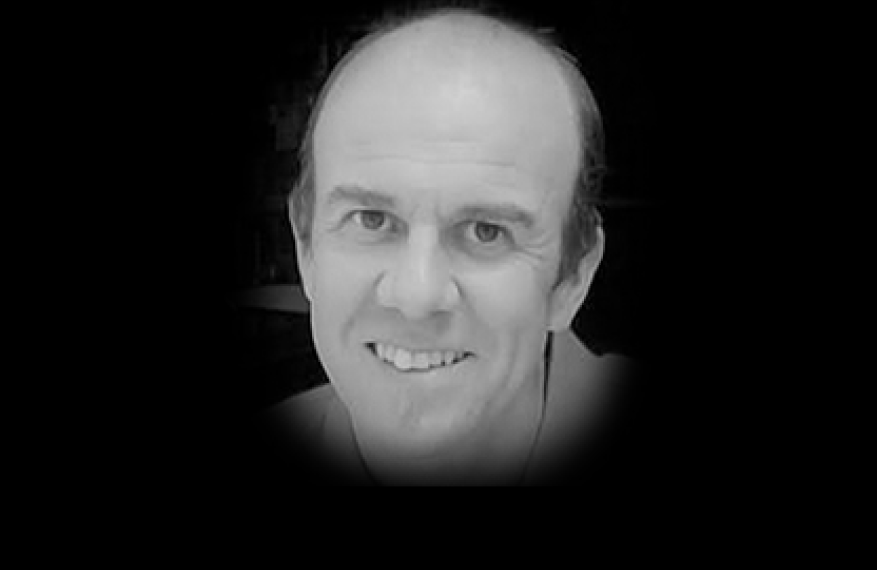 Chris is one of our customer service team consultants who's worked with several Podcasters and YouTubers to design and make a custom neon sign to suit their specific channel.
With experience in neon decor, background lighting and having watched the Joe Rogan Experience a few times, he knows quite well how a powerful background image, with a neon sign in the backdrop can drive more listeners, and engage with them on a subliminal level.
Tak with one of our team members about how a custom neon podcast sign can suit your channel.
Brands That Trust Us