---
Features & Advantages
FREE Express Shipping

All orders placed with Voodoo Neon qualify for FREE World-Wide Express shipping - Our usual shipping providers are DHL & Fedex.
Handmade & Crafted

Our team of LED neon experts hand craft every single product that we sell from scratch. Lovingly made we give every product we sell a personal, hands on touch in its creation.
2 Year Warranty

Every product that we sell comes with a 2 year warranty against electrical fault. Read our warranty page for more detailed information.
Easy to Install

Our products come with the option for mounting screws, hanging chain, or hanging wire. Easy to install on your wall, in your window, or from your ceiling.


View full details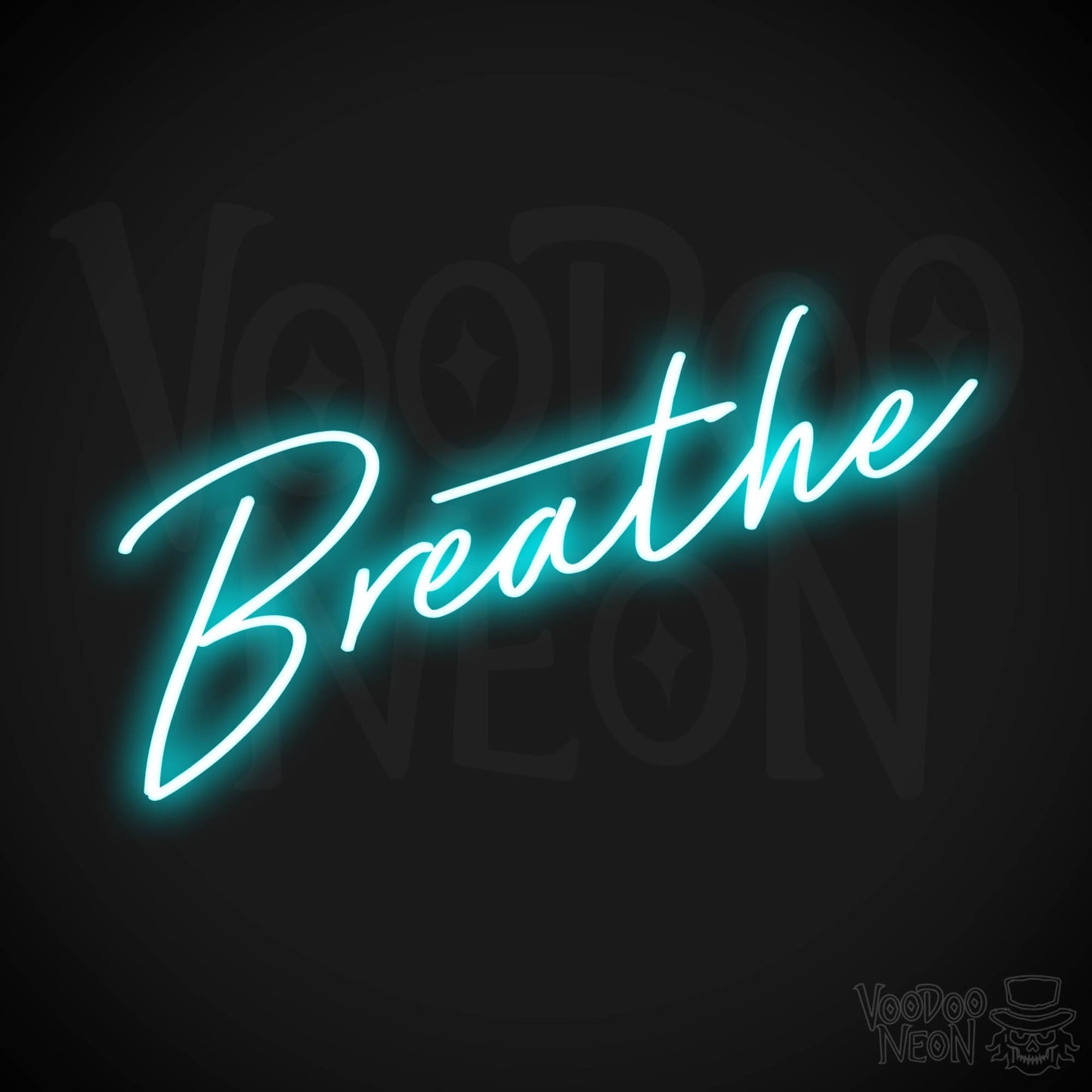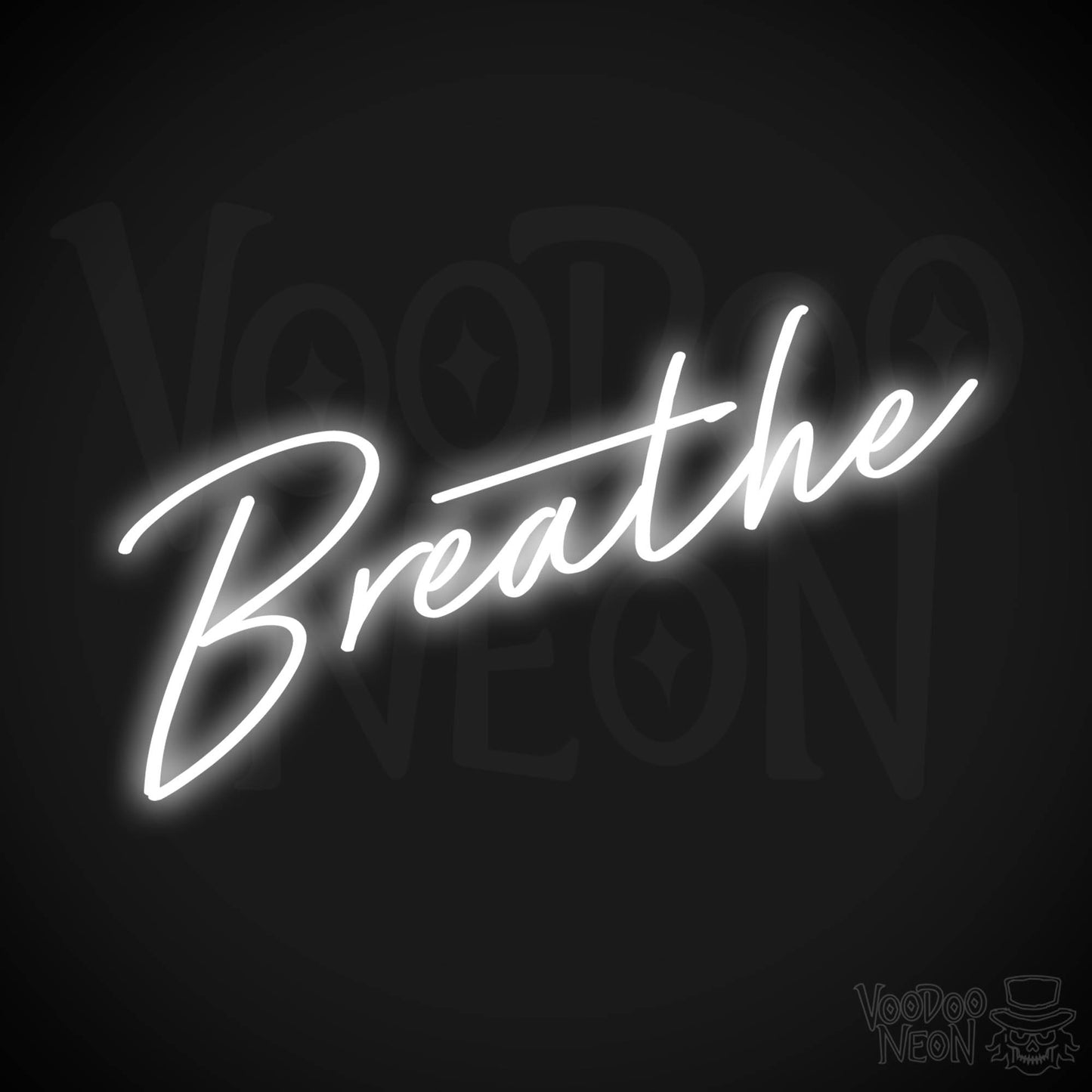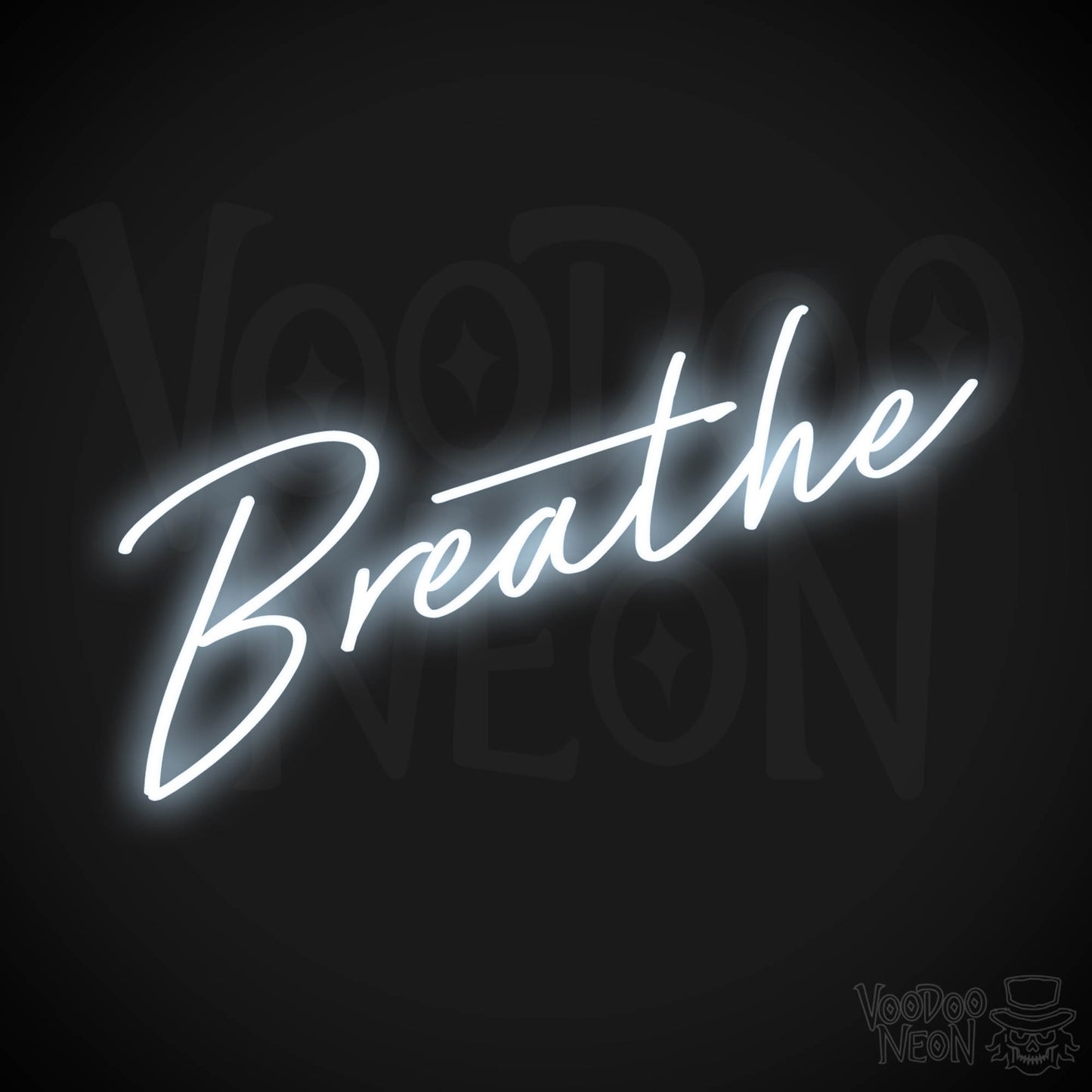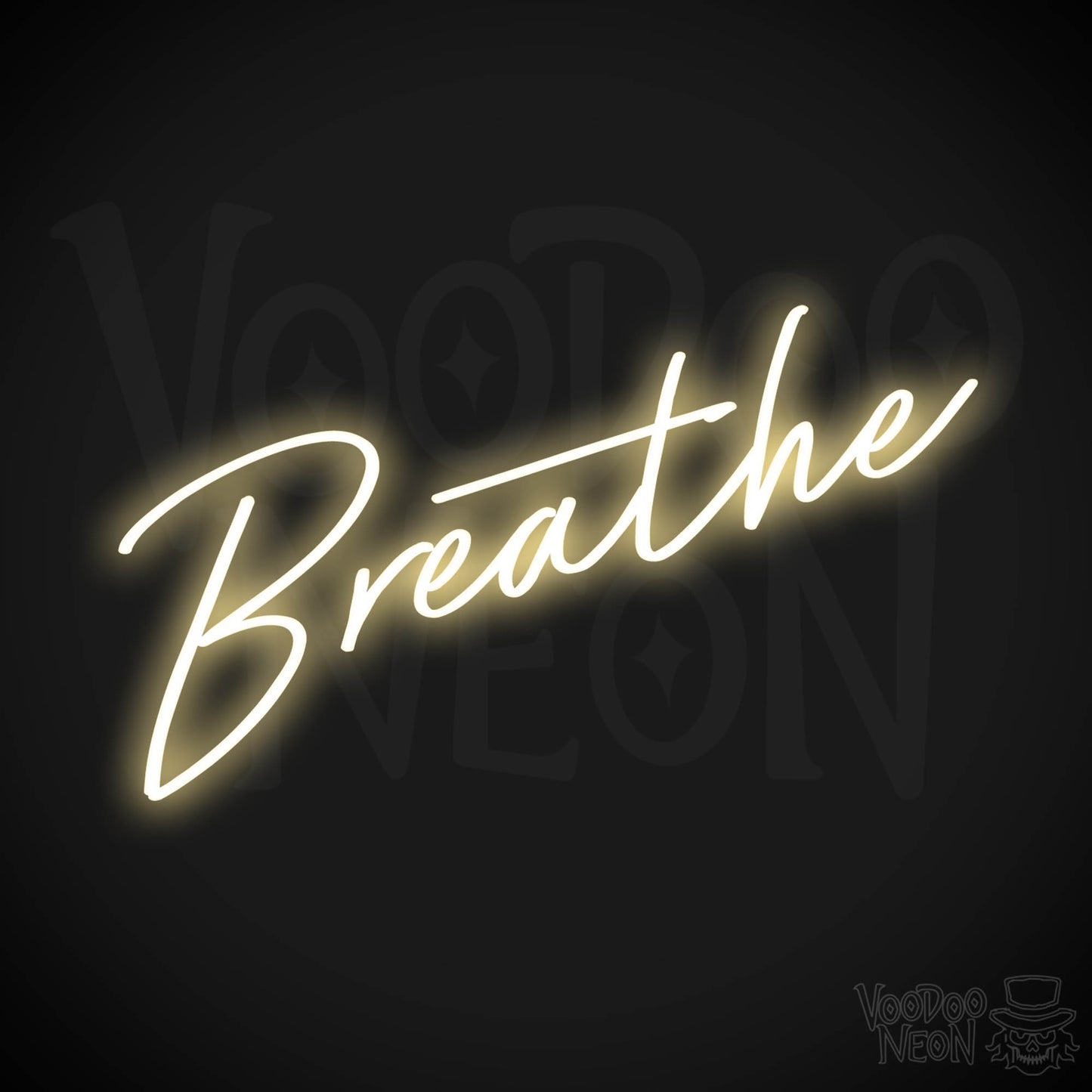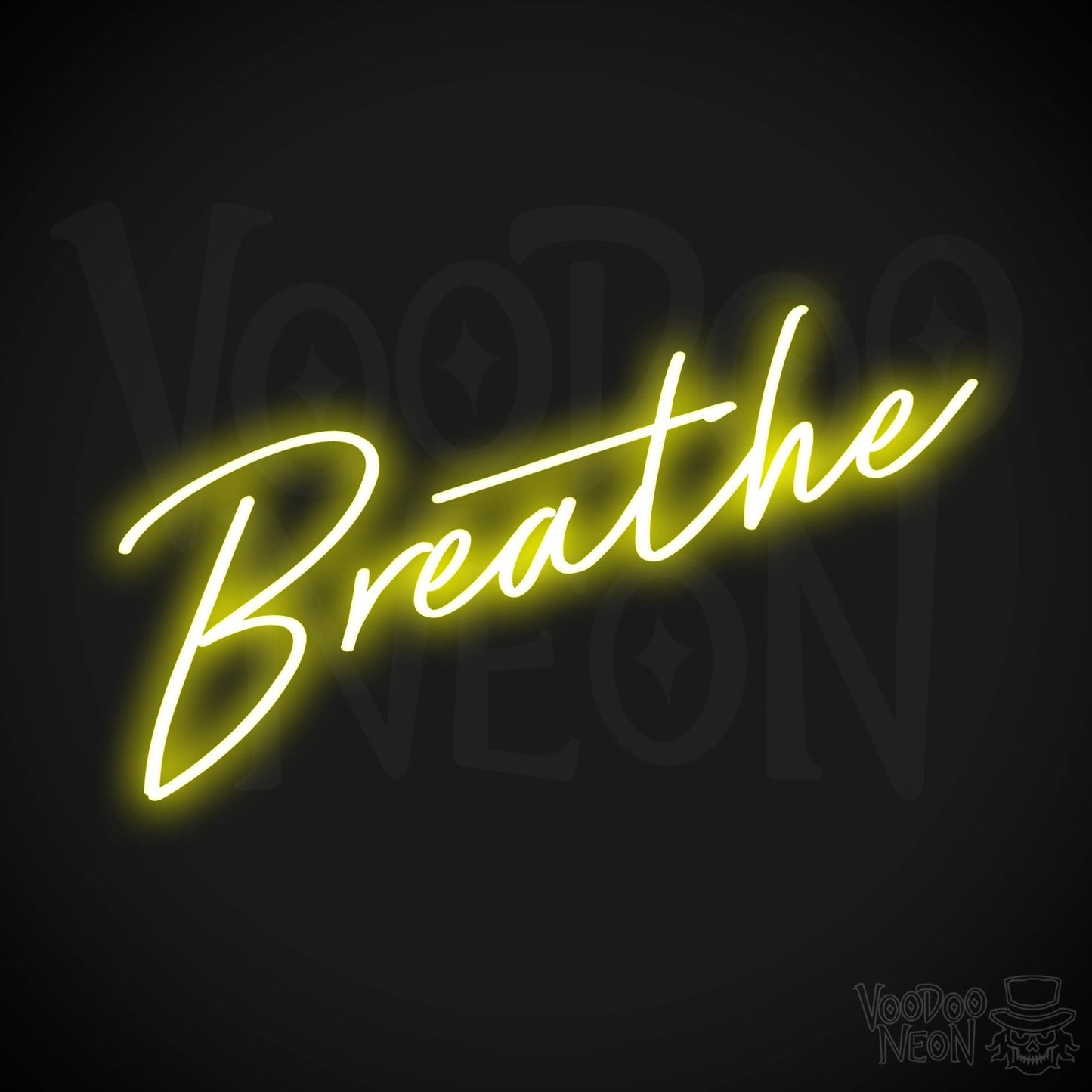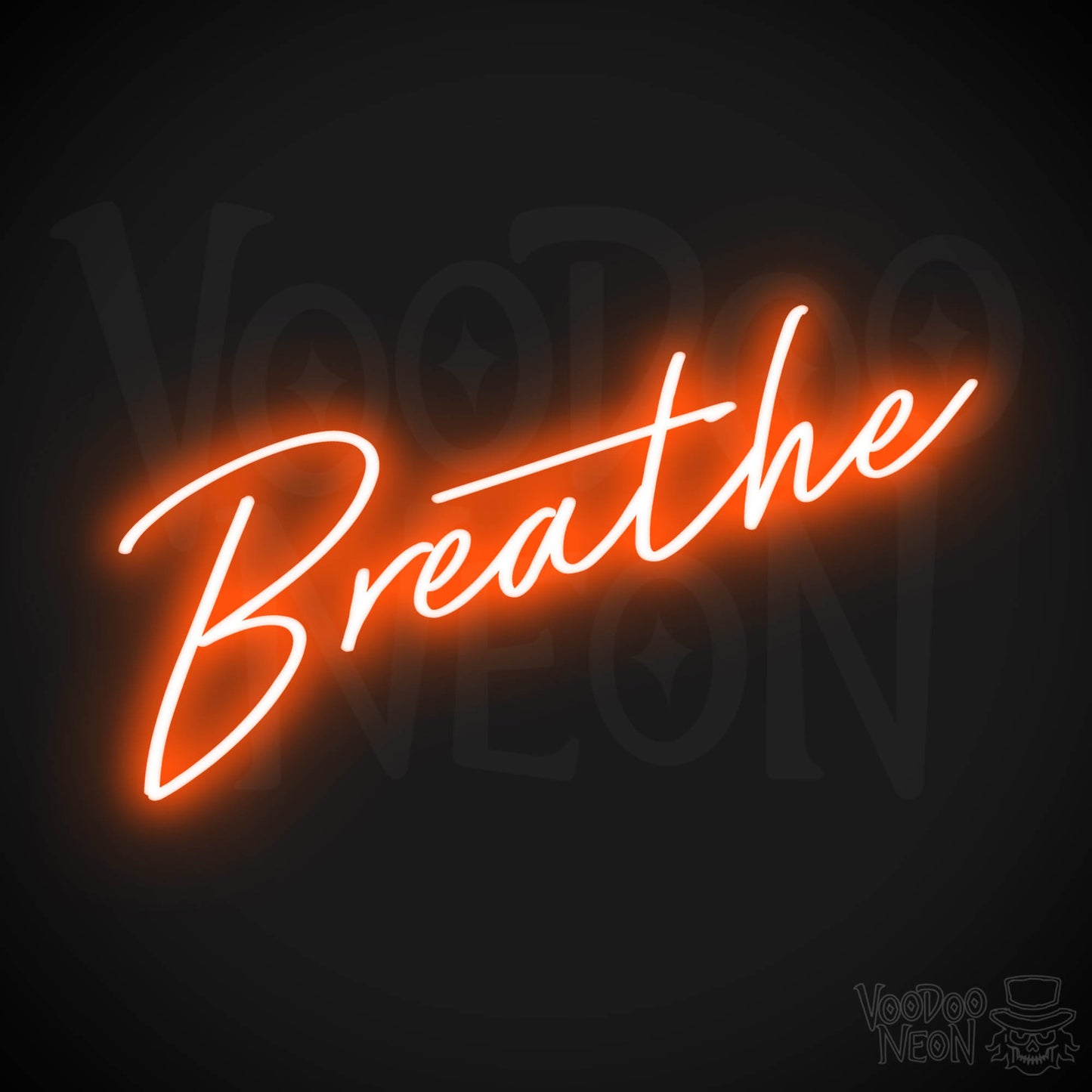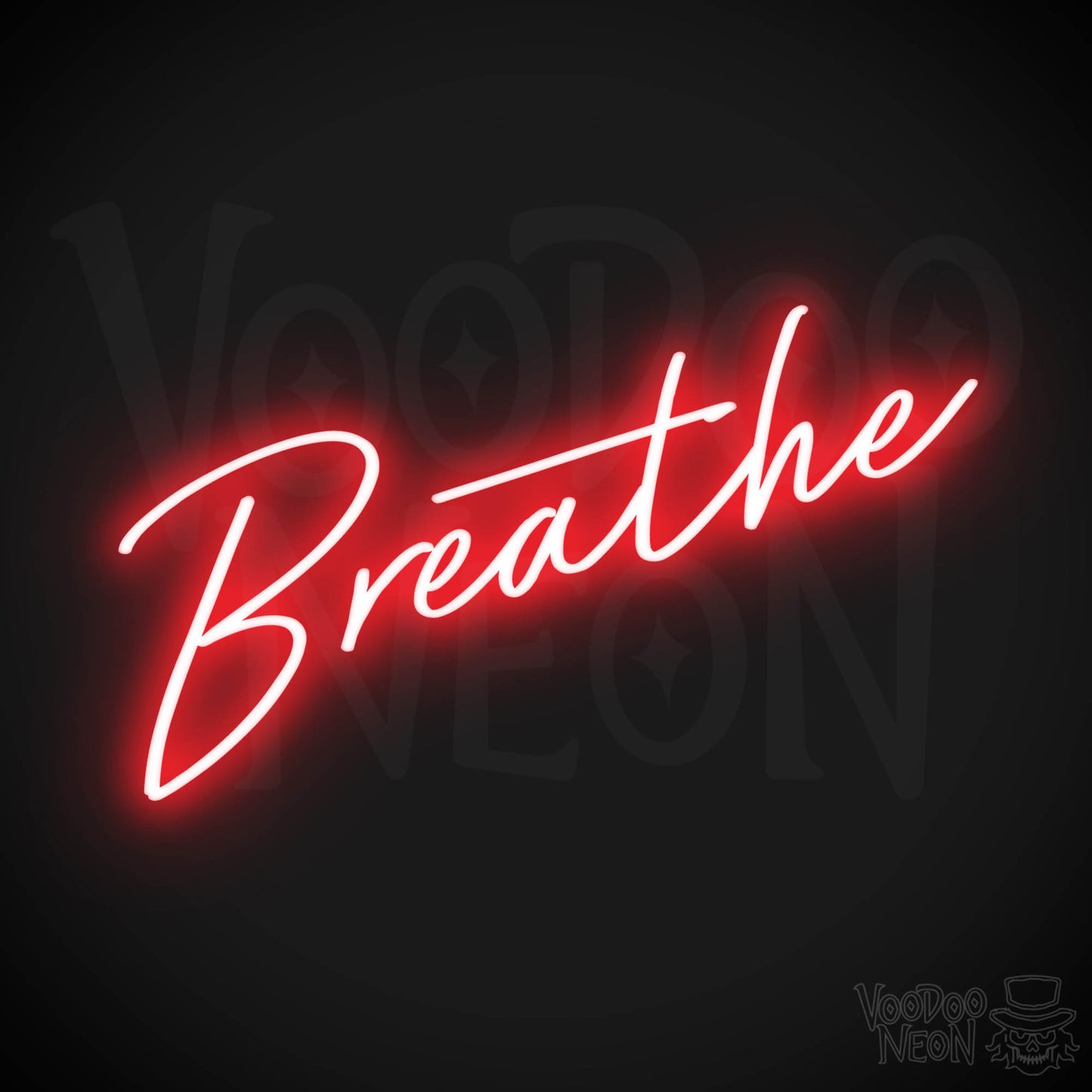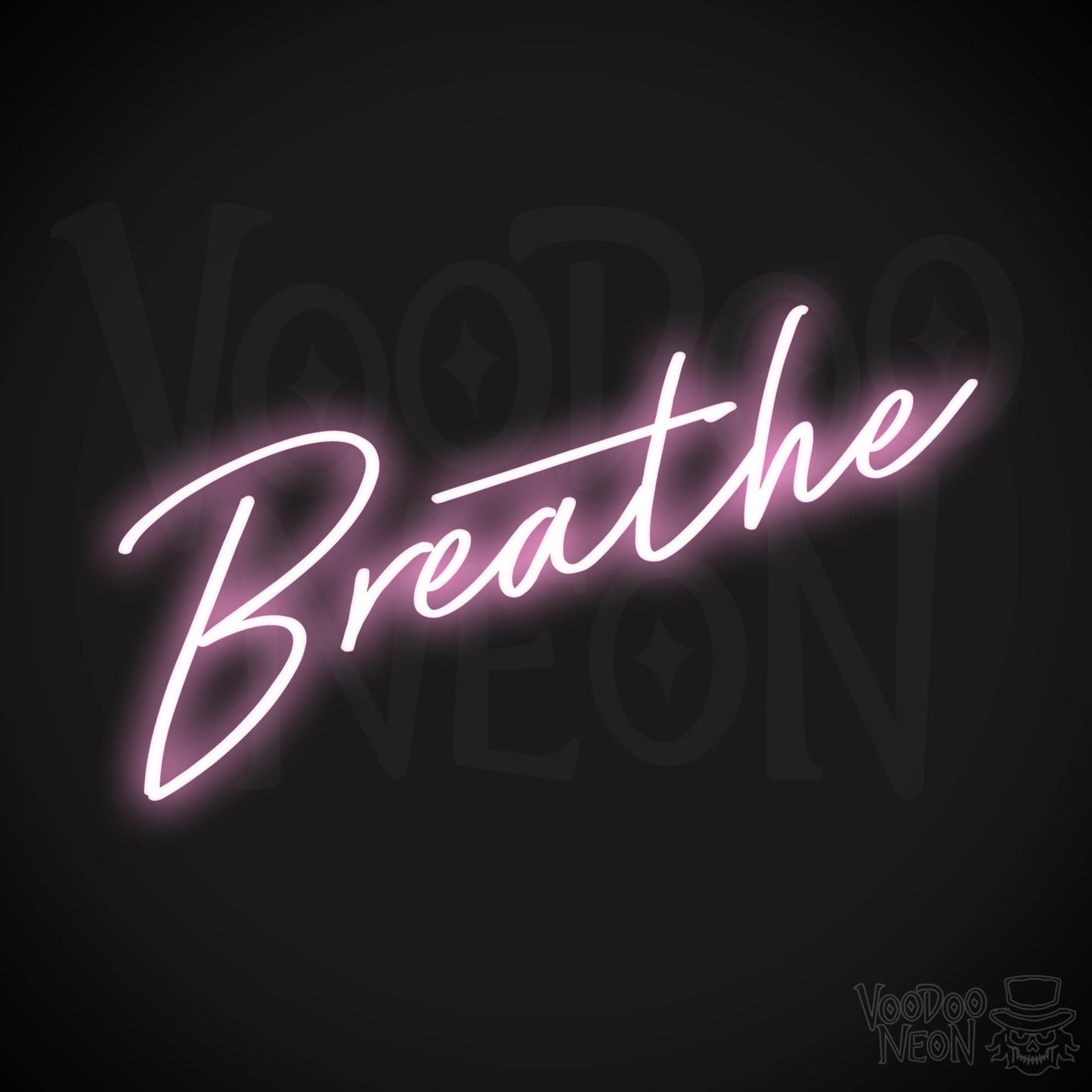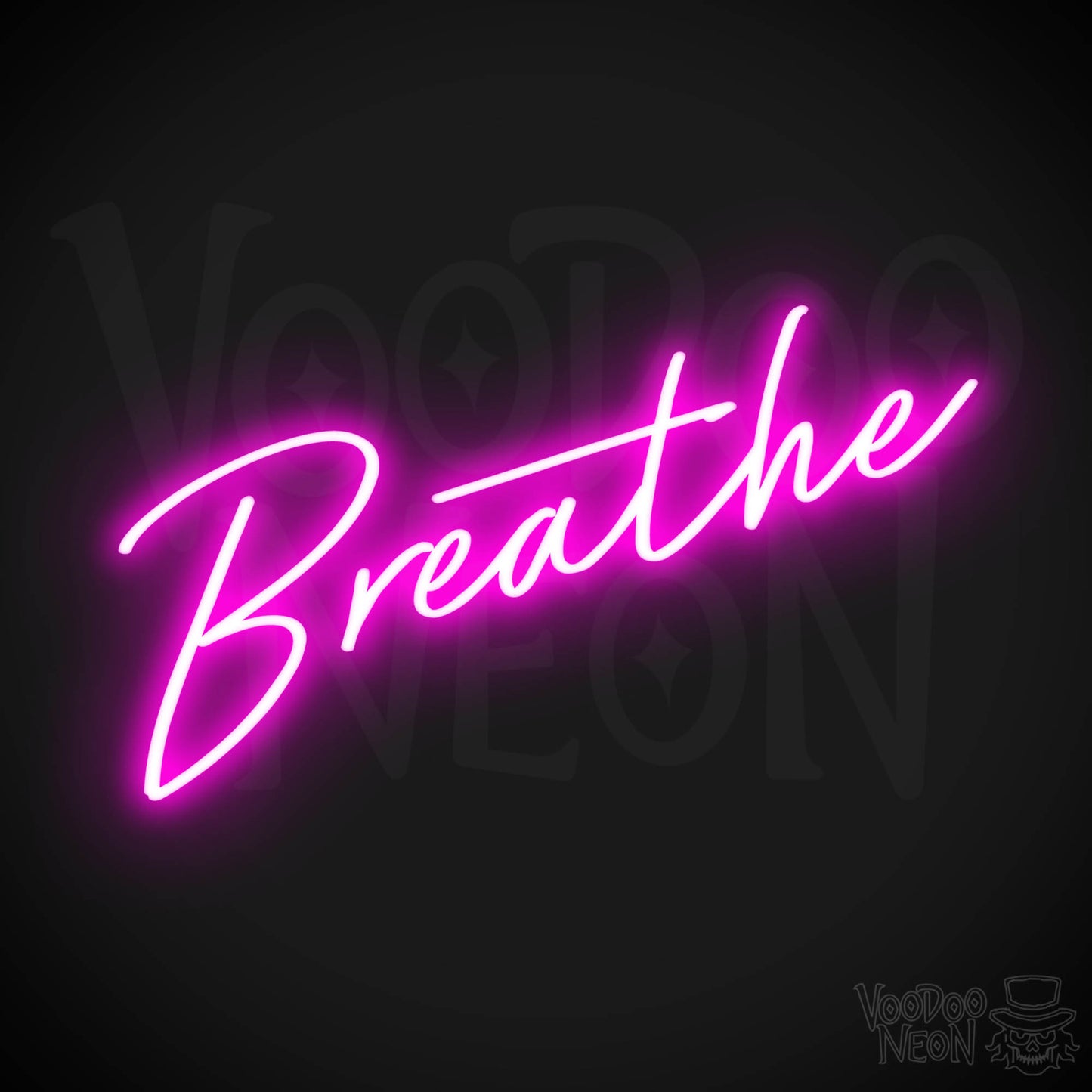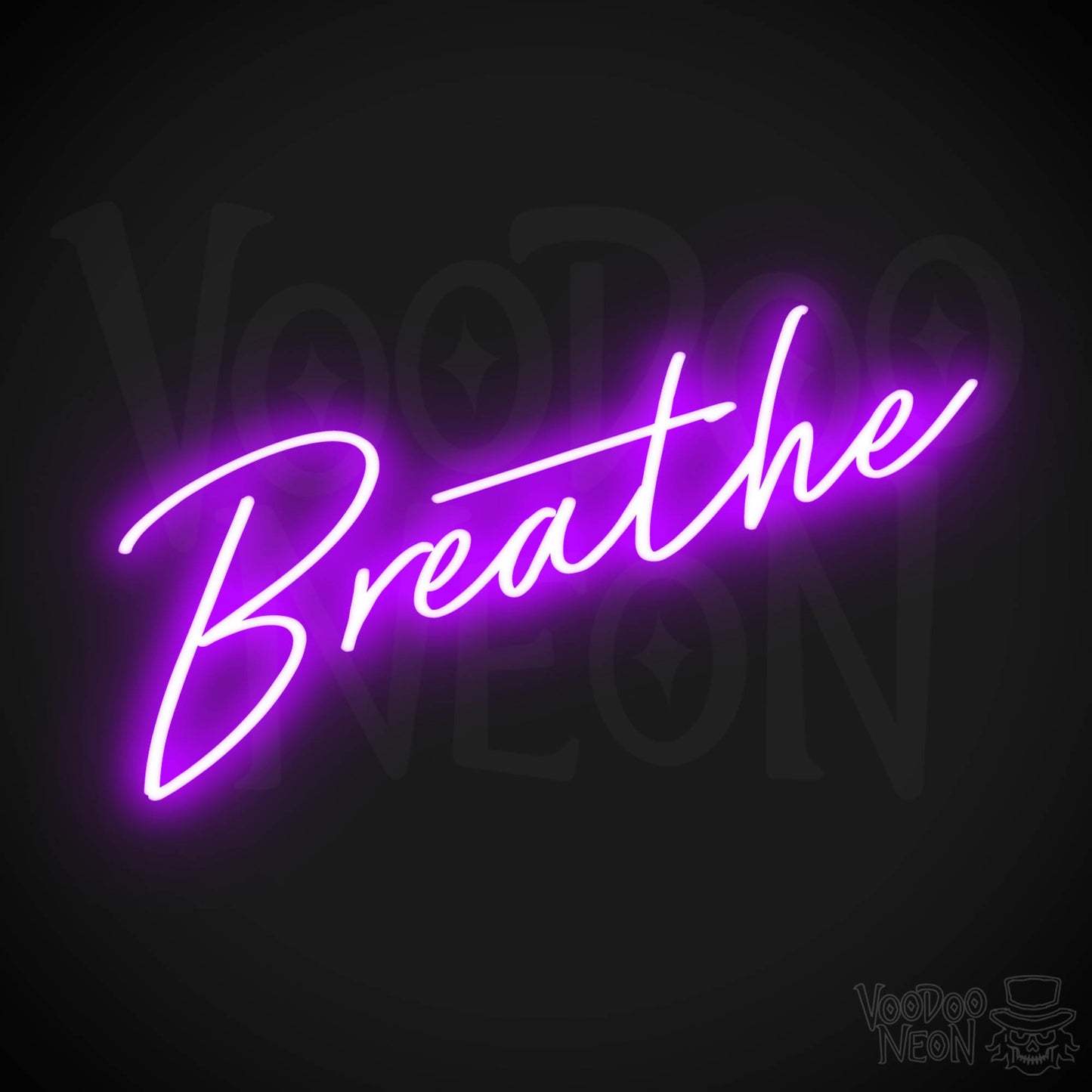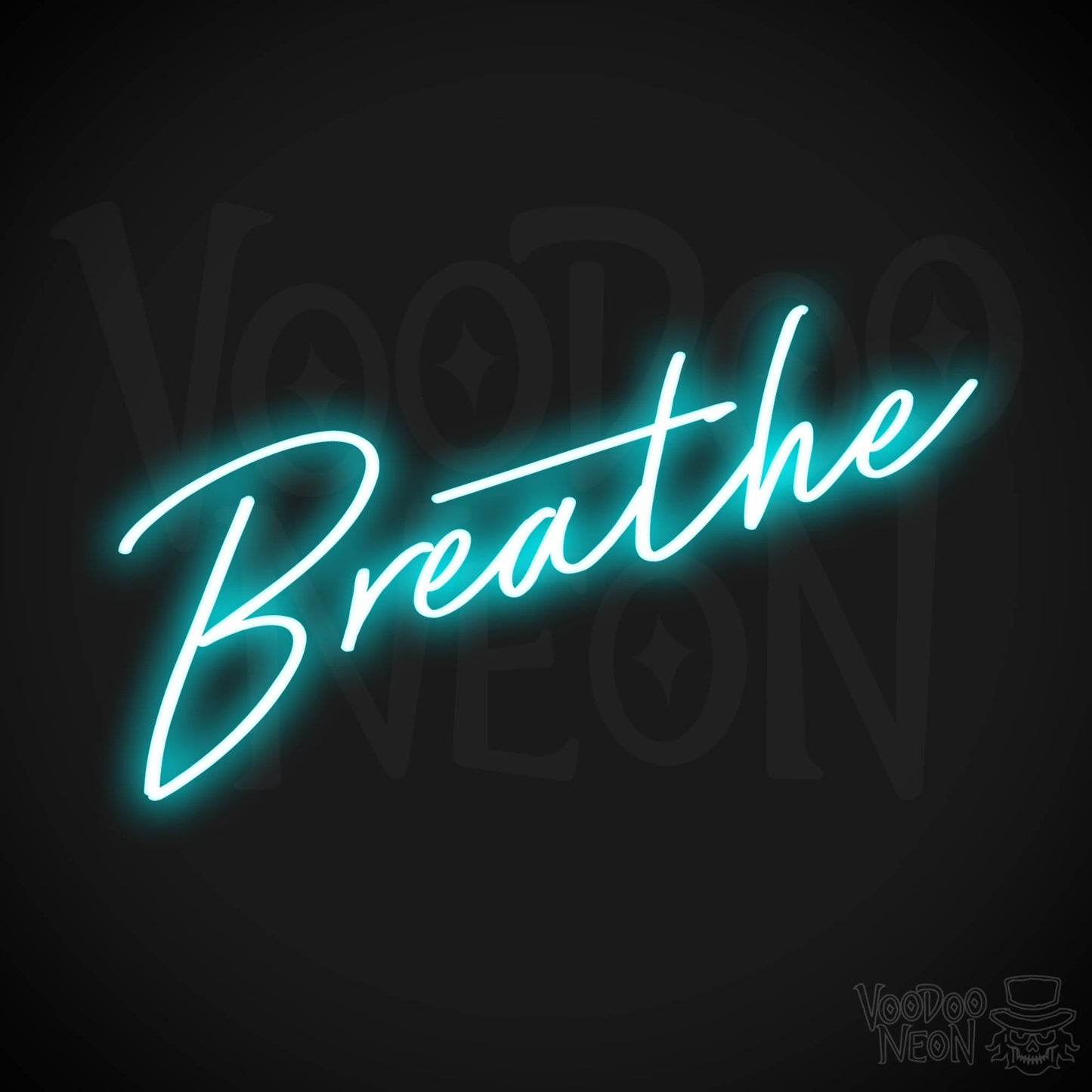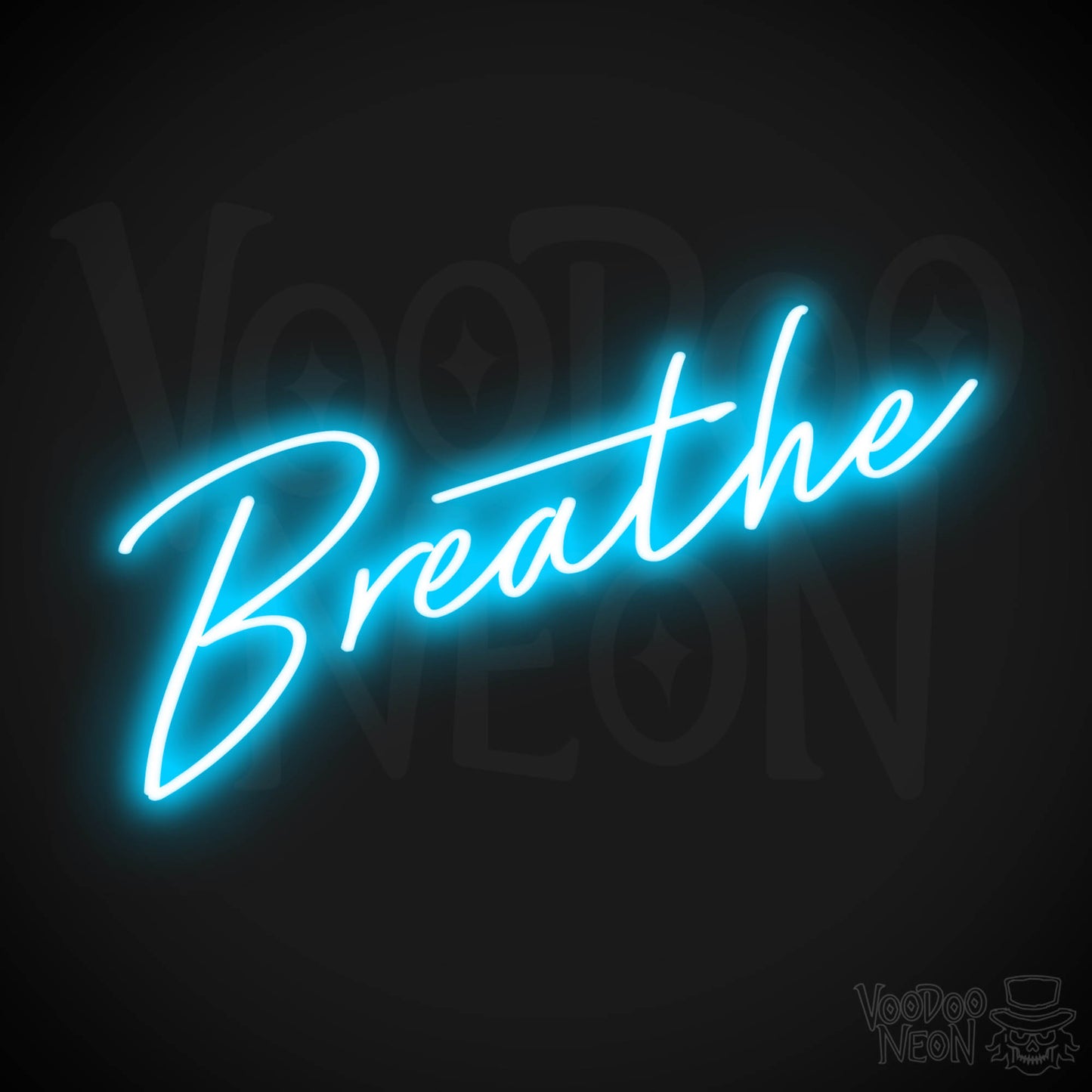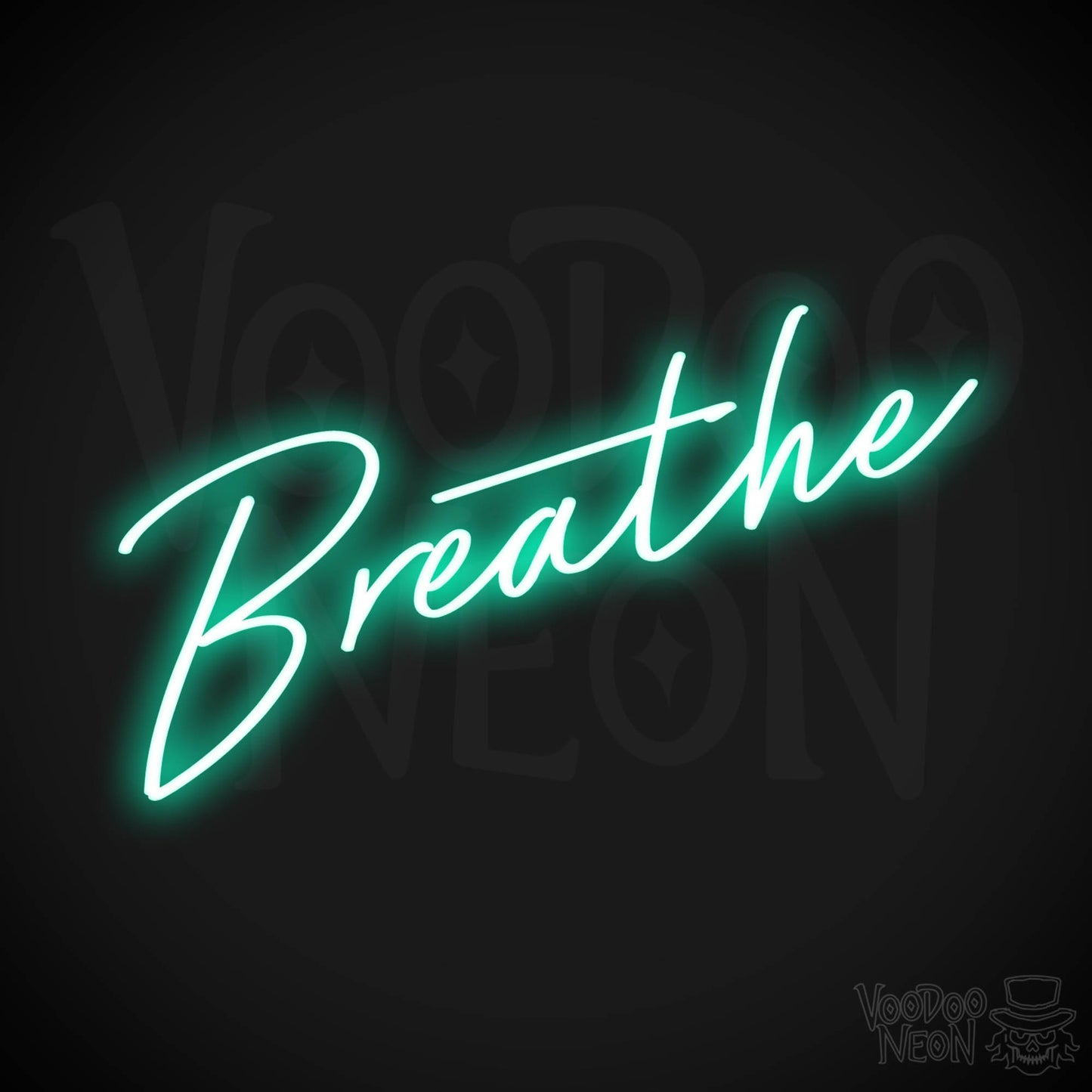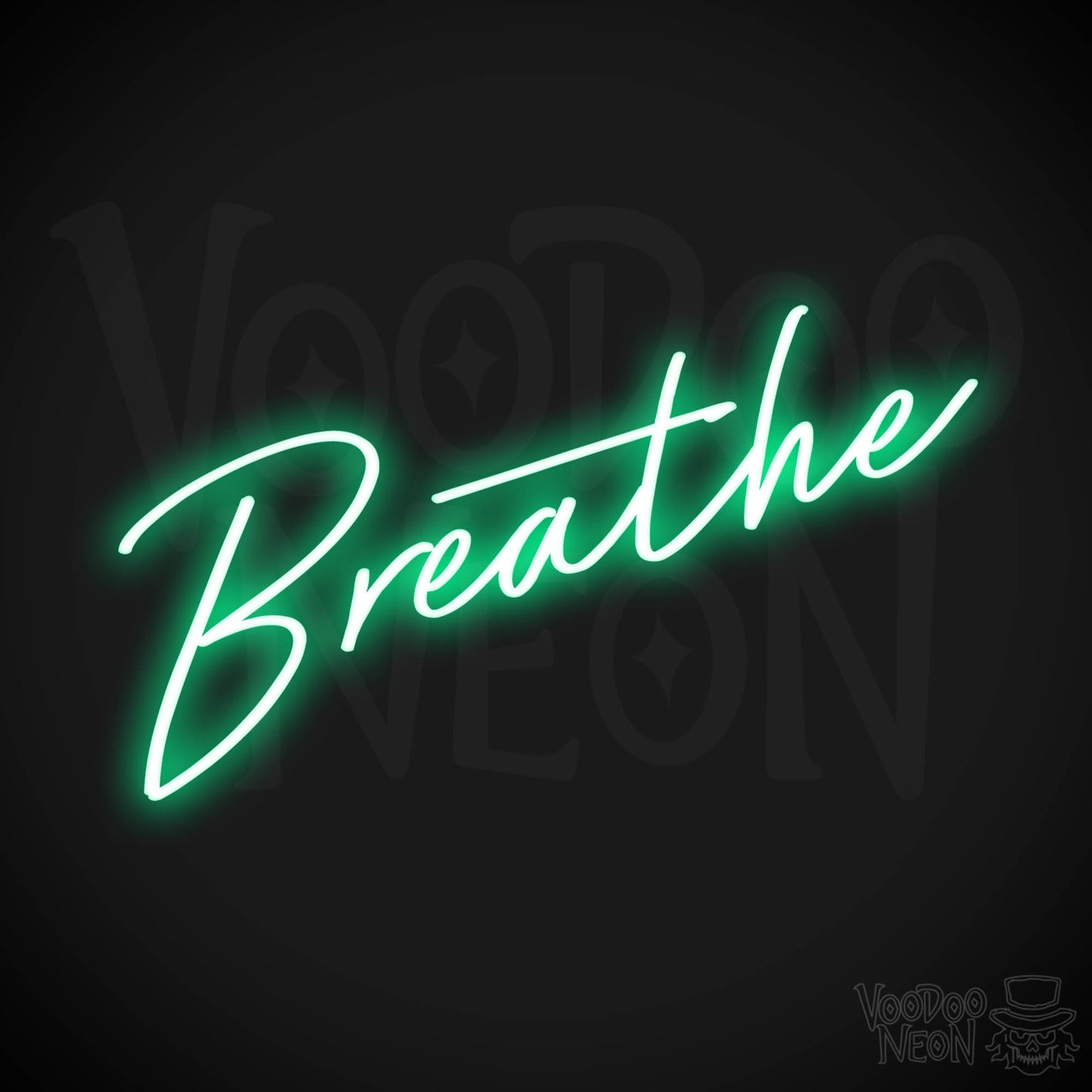 The "Breathe Neon Sign" is more than just wall decor; it's a vibrant statement, a constant reminder, and an eye-catching piece of art that illuminates any space. Crafted with high-quality LED neon lights, this sign is designed to inspire and motivate in the most artistic way possible.
Radiating with the brilliance of LED technology, the 'Breathe' neon sign delivers an intensely vibrant glow that transforms ordinary walls into extraordinary displays of inspiration. This isn't your typical wall art; it's an innovative fusion of decoration and motivation, a bold assertion that breathes life into your space.
The versatile design makes this LED light up sign perfect for both business and personal use. Illuminate your yoga studio, creating a serene environment for meditation or add it as a focal point in your home office, serving as a gentle reminder to pause and breathe during your busy day. Its radiant beauty is also ideal for adding an unexpected twist to living rooms or bedrooms.
However you choose to display this Breathe neon sign, its presence will be undeniably felt. It's not just an LED sign; it's an embodiment of positivity and well-being. The high-quality LED lights guarantee longevity while offering an energy-efficient solution to enhance your decor.
This inspirational sign is not about following trends; it's about setting them. Its captivating style is sure to spark conversations and intrigue amongst guests, making it a unique addition to any decor theme. The Breathe neon sign isn't just a product; it's a declaration of the brand's innovative thinking and passion for design.
Experience the transformative power of the Breathe Neon Sign - where art, inspiration, and decor merge to create a vibrant experience tailored specifically for you. Add this stunning piece to your space today and let its glow guide you towards tranquility and mindfulness every day!
Sizing chart for Breathe: Neon Sign
Small > Width 20" (50cm) x Height 12" (29cm)
Medium > Width 29.5" (75cm) x Height 17" (43cm)
Large > Width 40" (100cm) x Height 23" (57cm)
XL > Width 47" (125cm) x Height 29" (72cm)
2XL > Width 59" (150cm) x Height 34" (86cm)
3XL > Width 79" (200cm) x Height 45" (114cm)
4XL > Width 99" (250cm) x Height 57" (143cm)
Note: All of our signs are custom made from scratch and measurements can vary 1-2" (2-5cm).
Ideas & Inspiration:
This sign is related to the following collections
Babe-Cave
,
Business Signs
,
Home Decor
,
Lounge
,
Office
,
Teen & Dorm Room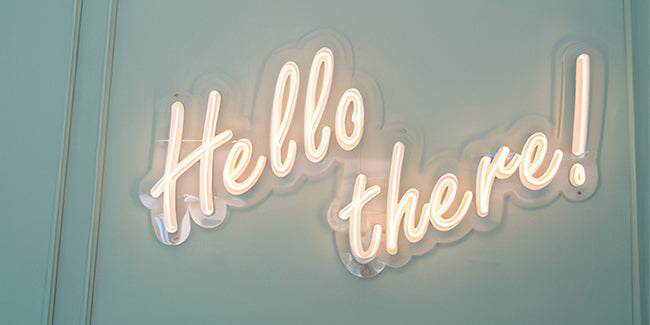 What is the product warranty?

We stand by the quality of our products, offering a two-year warranty covering electrical components for appropriate use.
What is the shipping and returns policy?

We understand buying online can be daunting, so we've made our shipping and return policies transparent and customer-friendly.
Will the neon sign match the product image?

We've designed all of our neon sign products to be easily produced, and made.

Having said that, our neon signs are all handmade, by humans, and by its very nature there will be minor differences between signs. We have limited this impact.

Those differences will be very minor, and not diminish from the sign quality, style or message whatsoever.

The sign size will be within 1" of the size selected
The LED lights of the sign will match to the color(s) selected
Does it come with a power supply and plug?

Yes - all of our ready-made neon signs come with a USA approved and tested power supply and plug.
How much is shipping?

Shipping on all of neon signs is completely FREE.
How do I look after the neon sign?

Our LED lights are very easy to care for. The most important aspects in order to care for your LED neon sign are to dust it regularly, switch it off occasionally, and ensure that you hang or mount in an appropriate location. If you do these things you'll have minimal issues getting to 50,000 hours.
What are the technical specifications of this sign?

Technical Specifications are:

Comes with a dimmer and controller for the sign
4-6 foot power cord
12v with a power supply to suit 110v (USA licensed, UL tested)
Lifetime of LED > Upto 50,000 hours
Complies with CE and ROHS International Safety standards
Uses flexible LED Light strips mounted onto an acrylic backboard with hanging/mounting holes
Noiseless operation
What lights are used in the sign?

Our signs use LED lights - they are bright, fast to illuminate, dimmable and environmentally friendly (they use low power 12v power).
Does the sign come with an installation kit?

Yes - All of our signs come with an installation kit. Here are the options for our signs:

Flat/flush wall screw kit (default)
Metal pins (hold the sign 1/2" off the wall, a great visual effect with light radiating behind the sign)
Sticky tabs/tape (useful for rental housing or accommodation where you can't drill into the wall)
Hanging wire
Hanging chains
Desk stand

By default our signs come with a flat to wall screw option. Additional costs are associated to the other options.
What some of our happy customers say ..
Thanks for the excellent service Voodoo Neon.
The neon sign looks great.
The sign we bought looks great.
Eye-catching, and just like the design.
Bought a ready-made sign - It was good quality and works perfectly.
Recommended.