Regular price

Sale price

From $192

Unit price

per

14 Colors & 5 Sizes

Regular price

Sale price

From $319

Unit price

per

14 Colors & 4 Sizes

Regular price

Sale price

From $223

Unit price

per

14 Colors & 5 Sizes

Regular price

Sale price

From $134

Unit price

per

14 Colors & 5 Sizes

Regular price

Sale price

From $288

Unit price

per

14 Colors & 4 Sizes

Regular price

Sale price

From $490

Unit price

per

14 Colors & 3 Sizes

Regular price

Sale price

From $501

Unit price

per

14 Colors & 3 Sizes

Regular price

Sale price

From $524

Unit price

per

14 Colors & 3 Sizes

Regular price

Sale price

From $371

Unit price

per

14 Colors & 3 Sizes

Regular price

Sale price

From $431

Unit price

per

14 Colors & 3 Sizes

Regular price

Sale price

From $352

Unit price

per

14 Colors & 3 Sizes

Regular price

Sale price

From $245

Unit price

per

14 Colors & 4 Sizes

Regular price

From $1,067

Regular price

Sale price

From $1,067

Unit price

per

14 Colors & 3 Sizes

Regular price

Sale price

From $147

Unit price

per

14 Colors & 5 Sizes

Regular price

Sale price

From $272

Unit price

per

14 Colors & 5 Sizes

Regular price

Sale price

From $308

Unit price

per

14 Colors & 5 Sizes

Regular price

Sale price

From $255

Unit price

per

14 Colors & 5 Sizes

Regular price

Sale price

From $222

Unit price

per

14 Colors & 5 Sizes

Regular price

Sale price

From $267

Unit price

per

14 Colors & 5 Sizes
Inspirational Neon Signs | Motivational Neon Signs
On this page, you'll find all of our ready-made inspirational neon signs.
This range was created with the idea to have pre-designed, and ready-made neon signs for the most popular inspirational messages and quotes - this allows customers to purchase immediately.
An inspirational neon sign is designed to inspire and engage with viewers - Challenge them to greater heights, and push further.
Our range of inspiring neon signs includes thousands of neon signs for use in gyms, home decor and office decor. We're sure to have a ready-made light up sign to suit your lofty goal.
Fuel your motivation with our collection of inspirational and motivational neon signs. These radiant wall art pieces are meticulously crafted to serve as a constant reminder of the power of positive thinking. Lit up with brilliant neon lights, and coupled with our cutting-edge LED technology, we bring a vibrant glowing energy to any space - transforming ordinary walls into an extraordinary canvas of positivity.
Get your very own ready-made inspirational neon sign today!
FAQ - Ready-Made Inspirational Neon Signs
Collapsible content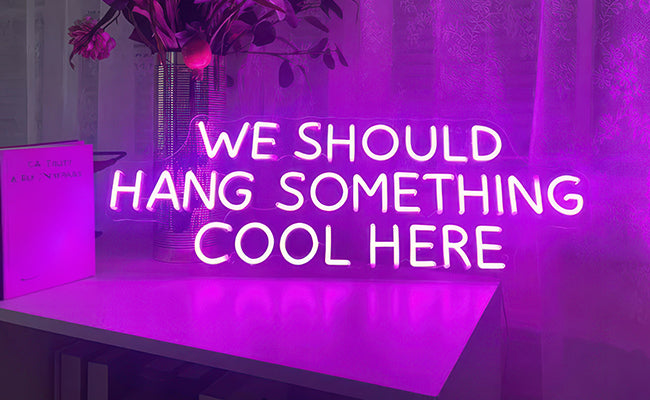 Are your neon signs customizable?

Yes - We offer custom LED signs that are totally customizable to suit your specific need. This option might suit those who can't find a ready-made sign to suit. Simply fill out the form and send us your design or idea and we'll come back with a concept design.

In terms of inspirational signs, our ready-made neons sign range will suit those who want common sayings, or quotes - Some of our most popular are, "Mindset is Everything", "Don't Give Up" and "No Quit".

Our ready-made signs are pre-designed and made in bulk, therefore are cheaper than our custom made signs.

Contact our team if you are wanting a custom inspirational neon sign.
What type of lights are used in your inspirational signs?

LED Lights - We use high-quality LED lights in all of our neon signs.

The LED lights that we use typically get 50,000 to 100,000 light hours of use. They are durable, temperature resistant (-5f to 135f), very bright and safe to touch (even when turned on for hours). LED lights are far superior to antiquated gas-neon lights from 50 years ago.
Do your inspirational signs come in a range of sizes?

Yes - All of our ready-made inspirational signs come in a variety of signs - ranging from 20" wide to 200" wide.

Our product pages allow you to select the sizing that suits your requirements.

If you want sizing beyond what is shown on our product page, contact us - we can help you with a custom order.
Is an installation kit provided with the sign?

Yes - All of our neon signs have an installation guide and mounting kit included.

The mounting options:

Flat/flush wall screw kit (default)
Metal pins (positions the sign 1/2" off the wall, and provides a back-glow visual effect with light radiating behind the sign and off the wall)
Sticky tabs/tape (useful for rental housing or accommodation where you can't drill into the wall)
Hanging wire
Hanging chains
Desk stand

The default for our neon signs is the flat/flush to wall screw mount option. We do recommend that customers upgrade and select the mounting pins, as this provides a nice neon back-glow effect.
What is the warranty provided with your inspirational signs?

2 years - We have a 2 year warranty on all of our neon signs.
What is the shipping cost? - and, delivery timeframe?

FREE - Our neon signs all include FREE Express Post shipping and delivery with UPS or Fedex. We select the fastest service for your sign, and it'll typically be delivered within 5-6 days after production has been completed.
What is your return policy?

If you have an issue with an order please contact our friendly customer service team - Typically we'll be able to help you within a couple of hours of contacting us - Phone or email.
Our happy customers said ..
Thanks for the excellent service Voodoo Neon.
The neon sign looks great.
The sign we bought looks great.
Eye-catching, and just like the design.
Bought a ready-made sign - It was good quality and works perfectly.
Recommended.