Regular price

Sale price

From $324

Unit price

per

14 Colors & 5 Sizes

Regular price

Sale price

From $234

Unit price

per

14 Colors & 5 Sizes

Regular price

Sale price

From $306

Unit price

per

14 Colors & 5 Sizes
Rock Band Neon Signs | Neon Band Signs & Logo
On this page, you'll find all of our ready-made neon signs of the World's most popular band logos and symbols.
This range was created with the idea to have pre-designed, and ready-made neon signs of the most famous and popular band logos, and symbols.
Crafted with an electrifying blend of color, design, and using our own LED technology, our neon signs breathe life into any space.
Our designers have taken some of the most famous logos and turned them into handcrafted neon artworks featuring the famous band symbol or logo.
Get your very own neon band sign today!
FAQ - Ready-Made Neon Band Signs
Collapsible content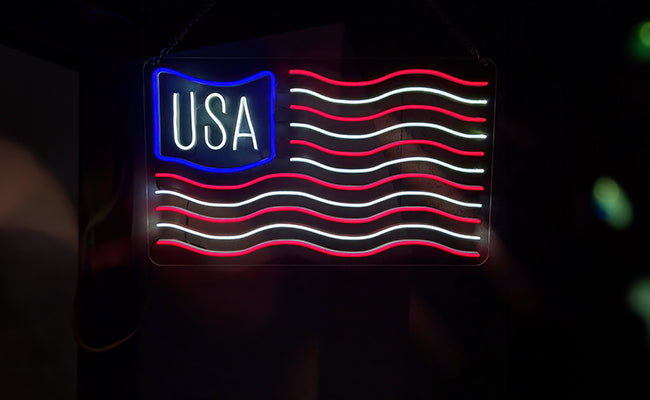 Are your neon signs customizable?

Yes - We can design and build a custom neon sign for any band logo or design you wish. If you want a custom sign, or something specific to a particular band, then please use the custom LED sign form to tell us about the sign you want, and we'll put together a concept design for you.

Our ready-made neon band signs are pre-designed and ready to ship.
What type of lights are used in your neon signs?

Our neon signs use high-quality LED light strips - We use only the highest quality electrical components in our signs.

Our LED lights have a lifespan of 50,000 and 100,000 hours. They should, under typical usage, provide 20-30 years of use without issue.

LED light strip is safe and cool to the touch and durable.
Do your neon signs come in a range of sizes? - and, colors?

Yes - All of our ready-made neon signs are available in several sizes - most, from 20" wide to 200" wide. We also have 21 different colors for all of our ready-made neon signs, plus there is a multi-color option!

Select the product you like and choose the size and color.

If you'd like a size bigger than that on our product pages, we can help you - Please send an custom inquiry to our customer service team.
Is an mounting kit provided with the neon sign?

Yes - Our neon signs all come with an installation guide and mounting kit included.

Our mounting options include:

Flat/flush wall screw kit (default)
Metal pins (positions the sign 1/2" off the wall, and provides a back-glow visual effect with light radiating behind the sign and off the wall)
Sticky tabs/tape (useful for rental housing or accommodation where you can't drill into the wall)
Hanging wire
Hanging chains
Desk stand

By default our neon signs come with the flat/flush to wall screw mount option. We recommend that customers consider upgrading to the mounting pins as this provides a nice neon back-glow effect.
What is the warranty provided with your neon signs?

2 years - We have a 2 year warranty on all of our neon signs.
What is the shipping cost? - and, delivery timeframe?

FREE - Our neon signs all include FREE Express Post shipping and delivery with UPS or Fedex.

Our delivery timeframes are typically 5-6 days.
What is your return policy?

If you have an issue with an order please contact our friendly customer service team - Typically we'll be able to help you within a couple of hours of contacting us - Phone or email.
Our happy customers said ..
Thanks for the excellent service Voodoo Neon.
The neon sign looks great.
The sign we bought looks great.
Eye-catching, and just like the design.
Bought a ready-made sign - It was good quality and works perfectly.
Recommended.