Regular price

Sale price

From $349

Unit price

per

14 Colors & 4 Sizes

Regular price

Sale price

From $238

Unit price

per

14 Colors & 5 Sizes

Regular price

Sale price

From $171

Unit price

per

14 Colors & 5 Sizes

Regular price

Sale price

From $215

Unit price

per

14 Colors & 5 Sizes

Regular price

Sale price

From $271

Unit price

per

14 Colors & 5 Sizes

Regular price

Sale price

From $229

Unit price

per

14 Colors & 5 Sizes

Regular price

Sale price

From $287

Unit price

per

14 Colors & 5 Sizes

Regular price

Sale price

From $296

Unit price

per

14 Colors & 5 Sizes

Regular price

Sale price

From $279

Unit price

per

14 Colors & 5 Sizes

Regular price

Sale price

From $206

Unit price

per

14 Colors & 5 Sizes

Regular price

Sale price

From $229

Unit price

per

14 Colors & 5 Sizes

Regular price

Sale price

From $314

Unit price

per

14 Colors & 5 Sizes

Regular price

Sale price

From $502

Unit price

per

14 Colors & 5 Sizes

Regular price

Sale price

From $247

Unit price

per

14 Colors & 5 Sizes

Regular price

Sale price

From $258

Unit price

per

14 Colors & 5 Sizes

Regular price

Sale price

From $304

Unit price

per

14 Colors & 5 Sizes

Regular price

Sale price

From $295

Unit price

per

14 Colors & 5 Sizes

Regular price

Sale price

From $287

Unit price

per

14 Colors & 3 Sizes

Regular price

Sale price

From $417

Unit price

per

14 Colors & 3 Sizes
Neon Sign Quotes | Neon Light Quote | Quote Signs
On this page, you'll find all of our ready-made neon quote signs.
This range was created with the idea to have pre-designed, and ready-made neon signs for the most popular quotes from movies and songs - this allows customers to purchase immediately.
Embrace the bright glow of a neon quote sign from Voodoo Neon. Our range of ready-made quote signs in bright neon lights is perfect decor to adorn your wall, inspire and delight with its profound words - made famous from a song or movie that you love.
Browse our range of handcrafted neon quote signs. Our ready-made range is available to purchase immediately, and available in a large array of colors and sizes.
Our expert designers have crafted an extraordinary collection of neon signs based on famous quotes from films and songs - the result is you can engage with the famous quotes you love lit up in bright glowing LED lights.
Let our neon quote signs transform your space into a warm and vibrant canvas of light and words. Get yours today!
FAQ - Ready-Made Neon Quote Signs
Collapsible content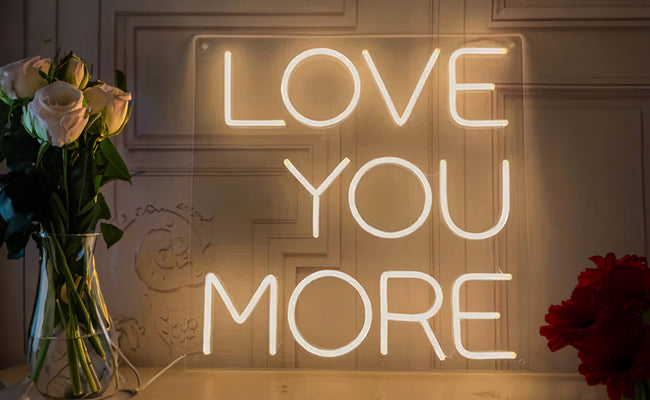 Are your neon quote signs customizable?

Yes - Totally, we offer a premium service where we can design and build a custom sign for you based on any quote or design. Fill out the form on the custom LED sign page - outline the quote you want, and we;ll put together a concept design for you.

Our ready-made quote signs on this page have some of the most famous quotes from movies and songs. This range is pre-designed, and offered at competitive prices as we've made them in bulk.

If, however, you're wanting a custom quote sign, we can definitely help you - Contact our team today!
What type of lights are used in your neon signs?

LED Lights - Our neon light quote signs use high-efficiency LED lights, which are hgh-quality, long lasting and durable.

Under typical light usage, our signs will be usable for 50,000 to 100,000 light hours - which is around 20-30 years.
Do your neon signs come in a range of sizes and colors?

Yes - All of our signs are available in 21 different colors, and several sizes (dependant on product design).

Select a product that interests you and view the page to see the available size and colors.
Is an installation kit provided?

Yes - All of our signs come with an instruction manual and mounting kit - these are easy to understand - typically customers can have their sign installed within 15 minutes.

Here are the options for our signs:

Flat/flush wall screw kit (default)
Metal pins (hold the sign 1/2" off the wall, a great visual effect with light radiating behind the sign)
Sticky tabs/tape (useful for rental housing or accommodation where you can't drill into the wall)
Hanging wire
Hanging chains
Desk stand

By default our neon signs come with a flat to wall screw option. Additional costs are associated to the other options.
What is the warranty provided with your neon signs?

2 year warranty - We have a 2 year warranty on all of our neon signs.
What us the shipping cost? - and, the delivery timeframe?

Totally FREE - Our neon signs all include FREE Express Post shipping and delivery with UPS or Fedex.

We select the fastest service for your particular neon sign (based on size and weight). We typically see delivery within 5-6 days.
What is your return policy?

If you have an issue with an order, contact our friendly customer service team - Typically we'll be able to help you within a couple of hours of contacting us - Phone or email.
Our happy customers said ..
Thanks for the excellent service Voodoo Neon.
The neon sign looks great.
The sign we bought looks great.
Eye-catching, and just like the design.
Bought a ready-made sign - It was good quality and works perfectly.
Recommended.