We Make Beautiful Neon Signs for Bedrooms
Every homeowner knows that having nice calming lighting is important at night time, and nowhere in the home is that more important than in the bedroom. Bedroom decor should be calming, warm and inviting at the end of the day.
As strange as it might sound, neon lights are one of the best ways to create that warm and calm atmosphere, and mood. A well designed, dimmable neon sign will create a calming mood.
We help customers create attractive and warm bedroom spaces with the use of LED light up signs and wall art.
Talk with our team about how a custom neon bedroom sign can take your space to the next level of gorgeous!
Customers who bought a neon sign for their bedroom say ..
The sign we got looks fantastic in our bedroom.
Thank you for the fast delivery!
Bought a few neon love hearts to provide ambient lighting in the bedroom - they work a treat, thanks for the tip Voodoo!
My wife loves the neon sign I got for the bedroom - it's a great reading light, and not so bright that you can't fall asleep with it on.
Chris was great with his advice, and fast responses.
Get a FREE Design & Quote for a Neon Bedroom Sign
Tell us about your neon bedroom sign idea and we'll create a concept design for you within 1 business day!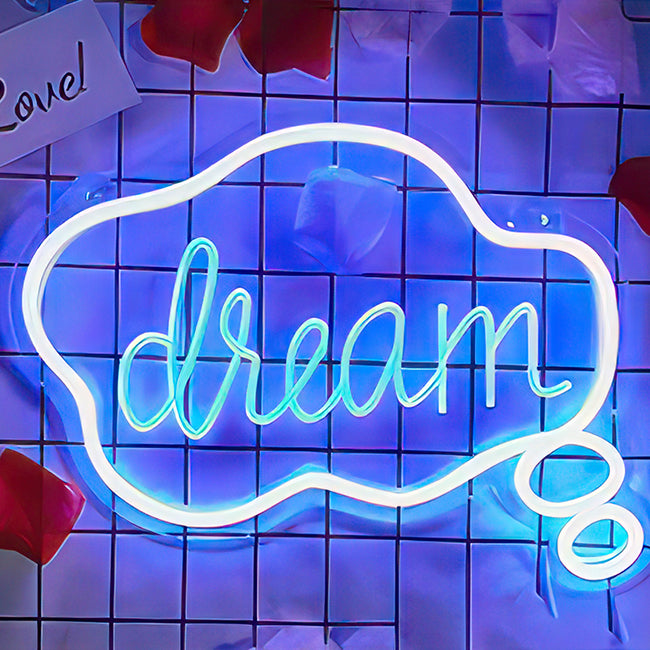 Handcrafted beauty and style
Enhance your bedroom space with the majestic allure of a quality neon bedroom sign. Voodoo Neon specialize in making custom-built neon signs for bedrooms - that reflect your desire, enthusiasm and design perfectly. We design signs based on your design, or with your bedroom sign idea in mind.
Our signs are more than just a source of light - they are a statement of style, an expression of personality, and a testament to our commitment to innovation, creativity, and customer satisfaction.
Handcrafted with meticulous attention to detail, our neon bedroom signs all use high-quality LED lights that emit a bold light. They are designed to not only brighten up your bedroom but also to add an air of charm and elegance. You can have a serene night in with the luminous radiance that a neon sign offers.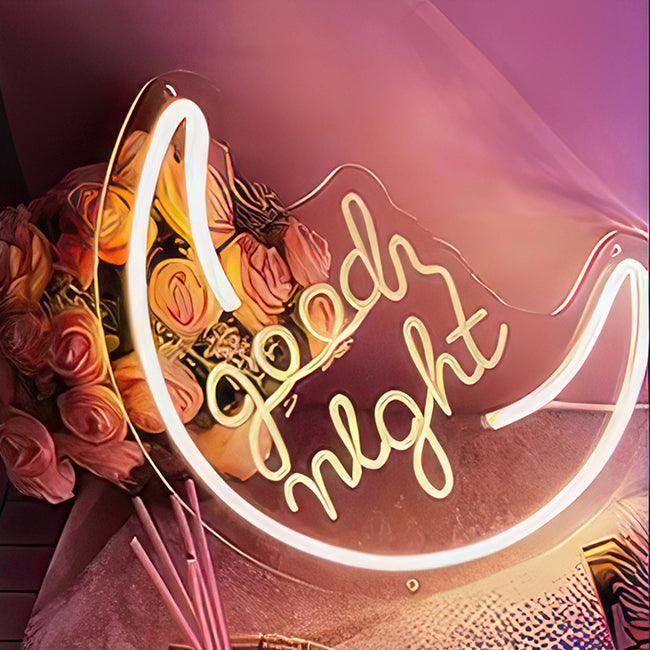 Bedroom lighting elegance
The true beauty lies in its customization. With Voodoo Neon, you are the true artist. You have the liberty to design a neon sign tailored specifically for your bedroom. Let your imagination run wild with the countless possibilities - use it as a piece of art, a unique night light, or even an inspirational quote to begin your day with positivity.
Choosing Voodoo Neon's Bedroom Sign is not just about selecting another décor item; it's about embracing an avant-garde lifestyle and cherishing the power of light. This neon sign for bedroom is more than just an aesthetic addition; it's an embodiment of personal expression that truly makes your space yours.
Experience the magic of personalized lighting with Voodoo Neon's Bedroom Sign – where innovation meets creativity, where style meets satisfaction!
Common Questions About Bedroom Neon Signs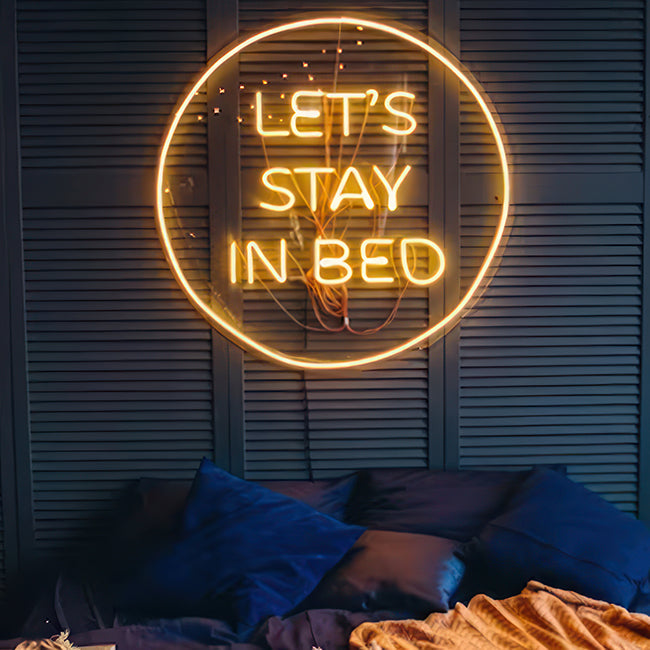 Are neon signs safe to use in the bedroom?

Yes - Our neon signs are perfectly safe to use in the bedroom. Low energy use, 12v, safe to touch, and using all USA certified electronic components.

This all makes our neon signs among the most safe lights to use within the bedroom, home or any space.
Why buy a neon sign for the bedroom?

Neon signs provide a warmth and ambiance to any space, and especially within the bedroom.

Neon signs have a depth, and mood setting capability that means they seem to lighten the mood.

Sizing of the sign, location, and settings all play into this.

As does the message conveyed on the sign itself. Choosing inspirational messages, or love messages, are often chosen.
How much does a bedroom neon sign cost?

A custom neon sign for the bedroom will range in price from $400-1700. Prices vary based on the design of the sign, the size of the sign and the complexity in making the sign.

A ready-made sign for the bedroom will range in price from $150 to $1000. Obviously with this option you don't have control on the design of the sign, they are ready-made.
What are the most popular neon signs for bedrooms?

Our most popular neon signs for use in the bedroom are:

Love signs (like Love You, Love you to the moon)
Sleep message signs (like Sweet Dreams, Goodnight Sleep Tight)
Religious signs (like Got God?)

We also make a number of custom neon signs for the bedroom, and these are fully tailored to suit your idea, your design or name.
What colors are available?

We have 21 different colors to choose from in our LED lights.
What fonts can I choose from?

We have over 100,000 different fonts, and if this is not enough we can trace and use any font that you wish.

Simply send us your idea, the font you want to use, and we'll provide a FREE design and quote to make the neon sign.
How long does it take to make a neon sign?

Once a design of the sign is approved, then our signs are typically made within 2-3 business days.
How long does delivery take?

Our neon signs are sent Express Post and take 5-6 business days to arrive with our customers in the United States.
Where should I position the neon sign in the bedroom?

Neon signs are versatile - they can be positioned anywhere in the bedroom, and this is about personal preference and style.

Some people position their neon signs above the bed, some position opposite the bed, some to the side.

Our neon signs can dimmer, and have a controller so you can use them for ambiance, reading lights, or as subtle messages in the bedroom, as ascents to the bedroom decor.
What is the warranty?

Our neon signs all have a 2 year warranty.
Ready-Made Neon Signs for the Bedroom
If you're just looking for a simple neon sign then you could buy one of our ready-made bedroom signs.
Questions about your using neon sign decor in a bedroom?
Contact our team!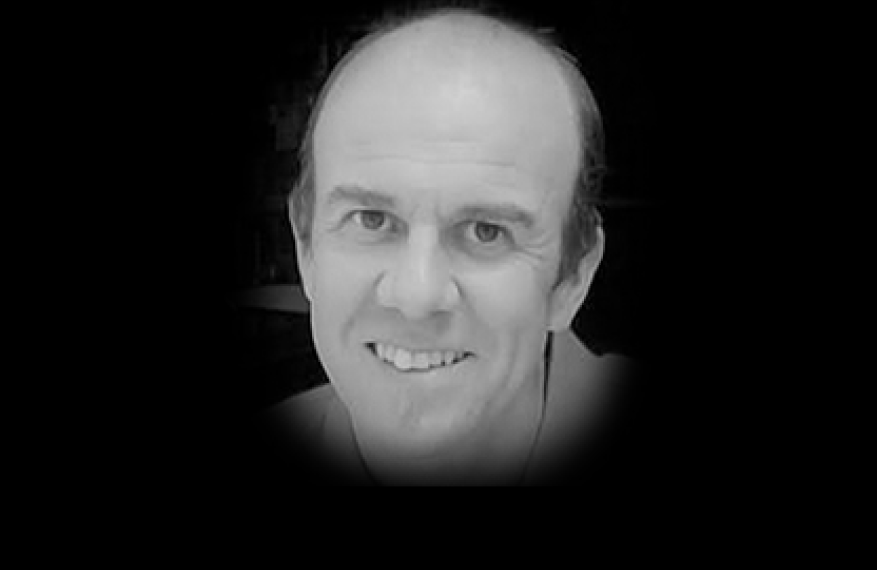 Expert interior designer, Chris has helped many people design a more welcoming and warm environment in their bedroom through the use of professional neon signs.
With over 20 years experience in interior design, online, and neon signs, he brings skills to help design quality neon signs for the bedroom.
Contact one of our team members about how neon signs can elevate your bedroom decor today!
Brands That Trust Us