We Create Office Neon Signs to Inspire and Delight
In today's competitive business world, it's essential to create a work environment that fosters creativity, motivation, and productivity. One way to achieve this is by incorporating an office neon sign into your workspace.
These stylish and eye-catching signs can not only enhance the overall ambiance of your space but also serve as a constant source of inspiration for your team.
Up the creativity, and add a touch of flair to your office with a neon sign for office.
Reviews from customers who bought a office neon sign ..
Thanks for all the advice and assistance Chris - You helped me work out what we wanted and made a wonderful neon sign for the office.
The reception area in our office now has a wonderful neon sign - so colorful.
Everyone loves it.
Working with Voodoo Neon was so easy - they have an attention to detail, and made a really nice sign for our office.
Would recommend!
FREE Design & Quote for an Office Neon Sign
Tell us your idea for the neon sign in your office and we'll reply within 1 business day with a concept design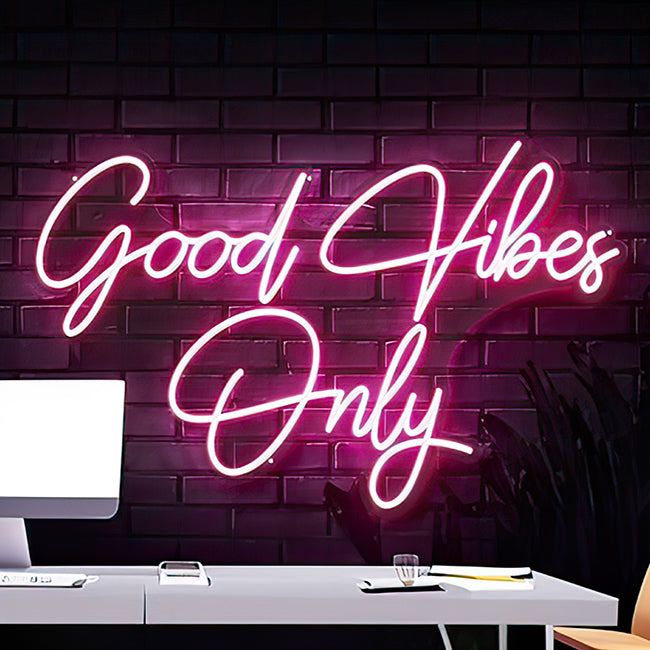 Inspiring words to focus staff performance
Experience the transformative power of Office Neon Signs, the thrilling fusion of vibrant colors and energetic lights tailored to redefine your office space. These visually stunning signs are more than just decor; they're a statement, a bright beacon that speaks volumes about your brand's personality and creative prowess.

Driven by LED technology, Office Neon Signs provide an intense yet eco-friendly light source that's as sustainable as it is beautiful. Crafted with durability in mind, these signs boast longevity, ensuring you enjoy their captivating light play for years to come. Whether you're looking to inspire employees or impress clients, these neon signs emanate a radiant glow that's impossible to ignore.

Office Neon Signs aren't just about illumination; they're about creating an atmosphere. With their vibrant hues and dynamic energy, they breathe life into any room, transforming mundane office spaces into stimulating work environments.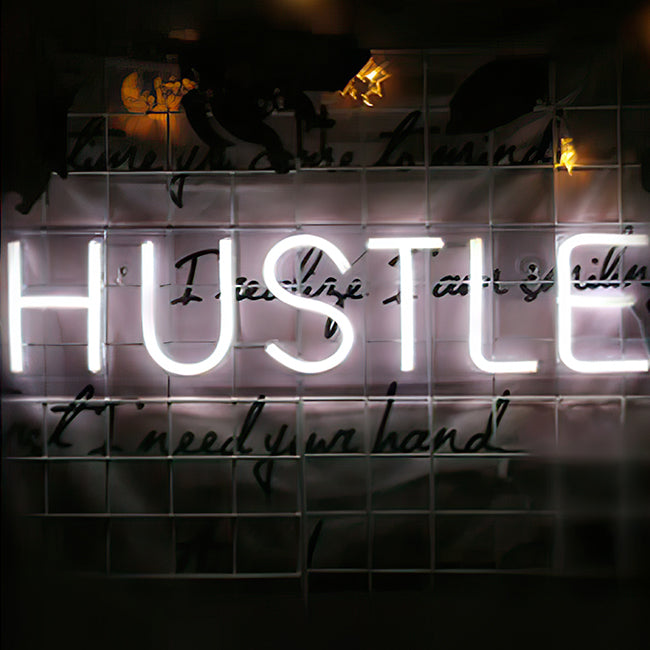 Beyond illumination - Spark creativity
These signs are designed to spark creativity, invigorate productivity, and enhance overall office ambiance—making every workday feel just a bit more extraordinary.

But what truly sets an office neon signs apart it its inspirational message. A quality neon sign in your office can seamlessly blend with any decor style, infusing the office with a hint of modernity without overshadowing the existing charm of the space. And with the option to customize your sign, you have the freedom to express your brand's identity in the most authentic way possible.

So why settle for mundane when you can have exceptional? Embrace the power of LED lights and let one of our office neon signs inspire the staff in your office. Experience decor that doesn't just look good but feels good too - creating an environment that fosters synergy, inspires innovation, and epitomizes your brand's unique spirit. Discover a neon sign for your office - where design meets functionality and creativity knows no bounds.
Common Questions About Neon Office Signs
Collapsible content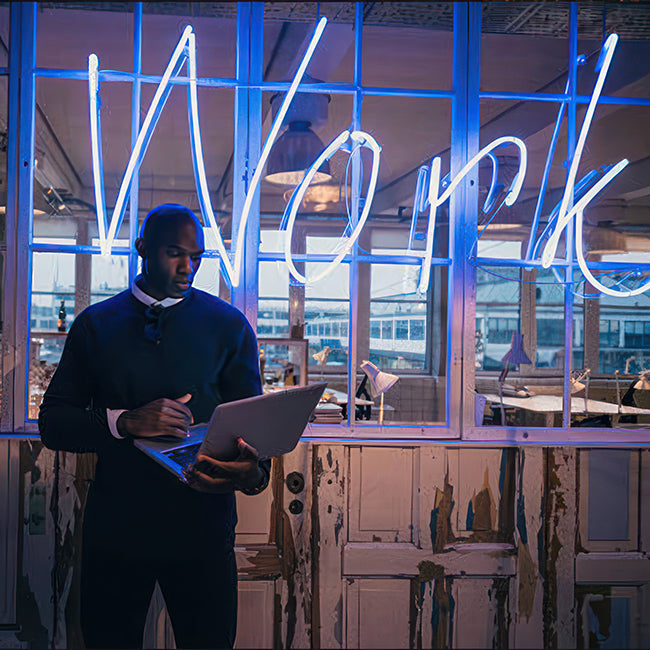 Why get a neon sign for an office?

Neon signs offer several benefits to office decor.

Ambiance: A neon sign provides a warm light, and backdrop for any office space
Lighting: A neon sign will give off a lovely glow that adds color and depth to traditional office decor lighting
Motivation/Inspiration: The actual message of the sign can help motivate and inspire your team to stay focussed, focus on the important things, and stay positive
Business logo: Turn your business logo into a bright glowing LED sign to use in your welcoming space, foyer or entry-way. A neon sign is bright and strong with its visual punch, drawing attention and holding the eye.
What are the popular neon signs to use in an office?

We commonly recommend a business choose its logo to use behind the reception counter.

For use within the office, we also recommend using neon signs to keep staff focussed and motivated. A neon sign will draw the eye, and deliver those poignant messages at crucial times, when staff need it most.

For ready-made signs, we have a set of inspirational neon signs we recommend - "Good Vibes Only", "Hustle", Mindset is Everything", "Be the Best You" - being some of our more popular ready-made signs.
How long does it take to make a neon sign?

We can make our neon office signs within 2-3 business days.
How long is shipping of a neon sign?

It takes 5-6 days to ship from our factory to all of the United States.
Are neon signs safe to use in an office?

Yes - Our neon signs use US certified electronics and components. They are perfectly safe to use in office spaces.
How many colors can we choose from?

We have 21 colors of LED lights that you can choose to include in your neon sign.
Where do people use a neon sign in their office?

The most common locations to use a neon sign within an office space are:

Foyer and entrance way, in public facing spaces
Back office space, staff facing only spaces
Individual meeting spaces in the back office, to set mood in certain meeting rooms
What is the warranty on your office signs?

We offer a 2 year warranty on all of our office neon signs.
Will a neon sign distract our workers?

It will draw the eye, but once your team get used to it, it becomes more like a background light, an ambiance for the space.

With an inspirational sign in the office, it might be the sign that draws the eye when it's most needed. With a poignant message it might become more like a "Goto" message for the team, or a calming influence.
Ready-Made Neon Signs for Offices
If a custom neon sign is not needed then consider buying a ready-made inspirational sign for your office instead.
Intrigued about how neon signs can improve your office decor?
Contact our team!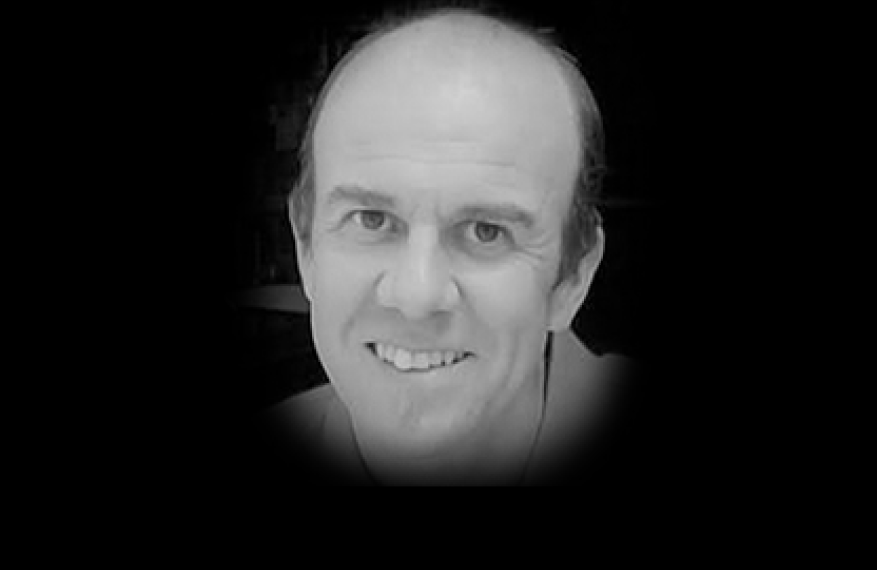 Chris is our subject matter expert whose vast experience in neon signs and use in exterior and interior design for offices. With over 20 years experience in online.

He works with business customers helping them improve their office decor with inspirational signs and messages designed to motivate teams and keep them focussed on what matters to your business.

Founder of Voodoo Neon, Chris has worked with many businesses since 2008, helping them build the perfect business sign for their office.
Brands That Trust Us