We Design Stunning Neon Cafe Signs
Every cafe owner knows that having a welcoming and engaging decor in your cafe is vital to success. One component of achieving a warm atmosphere is with lighting - a crucial part of the ambiance.
Bold, vibrant neon cafe signs are designed to invite the viewers gaze, and interest them with compelling words, or symbols, that strike to the patrons and cafe's ethos - to find common ground - for example a love of coffee, or donuts.
We specialize in designing and building truly stunning neon signs for cafes, signs that make your cafe stand out, be remembered and revisited. The kinds of signs that attract Instagram selfie pictures, and make your establishment become a destination cafe, a must visit.
Talk with our team about how a neon sign in your cafe, can bring the bling, and create a real buzz.
People who bought a neon cafe sign from us said ..
Bought a custom sign for our ice cream shop/cafe and specifically as a backdrop for selfie pictures.
I think we have at least 5 people every day taking shots and sharing on Instagram, Facebook and other channels.
Such a great way to promote our business without doing anything!
Working with Chris was a real pleasure - he helped design a sign, and suggested all possible options. We went with a dynamic neon sign in the end, and it's unreal in our coffee bar, behind the servers.
Recommended.
Bought 3 signs in total for our cafe, all custom with our logo.
Perfect design, and UV print with the overlay LED is top quality.
Also recommended to my friends coffee bar.
Thanks!
Get a FREE Design & Quote for a Neon Cafe Sign
Tell us what neon signs you need for your cafe and we'll draw concept designs within 1 business day!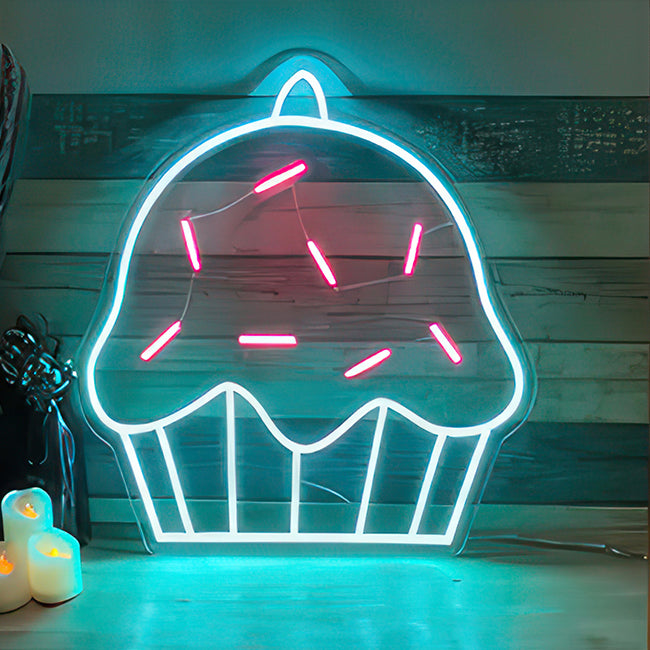 Highlight your ethos and unique features
Include a dose of bold energy into your coffee bar with an eye-catching neon cafe sign. Crafted with state-of-the-art LED lights and electronics our neon signs are a vibrant fusion of innovation and creativity, tailored to display your cafe's unique character with its custom design.
Every inch of our custom neon signs is designed with expert precision by our team and the LED lights exude a wonderful radiant glow that never fails to captivate visitors. Whether it's day or night, the lights from the LED will glow brightly and draw the eye, and create an inviting ambiance that beckons coffee enthusiasts far and wide. We specialize in creating custom designs based on your design, your logo, or your cafe sign idea - we design concept drawings, and consult with you to build a design that you have fully approved.
Our neon cafe signs are more than just a decorative pieces; they are symbols of your ethos, your commitment to an extraordinary coffee drinking experience being within you cafe. A neon sign stands as an emblem of your cafe's warm hospitality, underlining the promise of freshly brewed and tasty coffee served with a smile.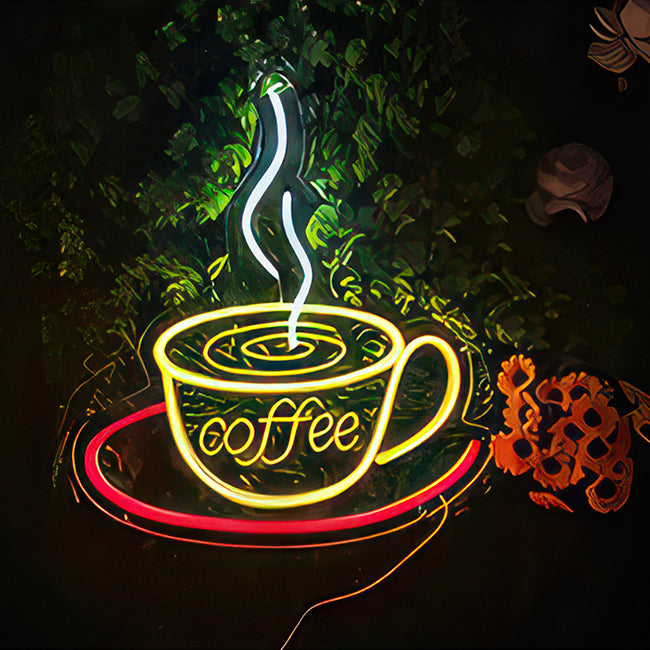 Turn your cafe sign idea into a real neon sign
Our custom neon signs don't just light up a room; they boldly display your passion for coffee and foster a sense of community, comradery with your customers - this in turn brings repeat visits, and customers.
With Voodoo Neon, customization is at your fingertips. You are invited to take part in the creative process, ensuring that your neon cafe sign perfectly encapsulates your idea. From a fully custom design, LED colors, and fully creative control over the design of your sign - to approve of a design that aligns with your brand identity. We know that your brand is unique, and our designs need to be fully custom and unique in order to reflect your cafe's personality.
Voodoo Neon turns your cafe sign ideas into a bright glowing reality.
So why not illuminate your coffee bar with a Voodoo Neon cafe sign today, and watch it transform your cafe from ordinary coffee bar to a must visit destination - where patrons take pictures of selfies in front of your neon sign, and share on Instagram
Take your cafe to the next level with our neon decor!
Common Questions About Our Neon Cafe Signs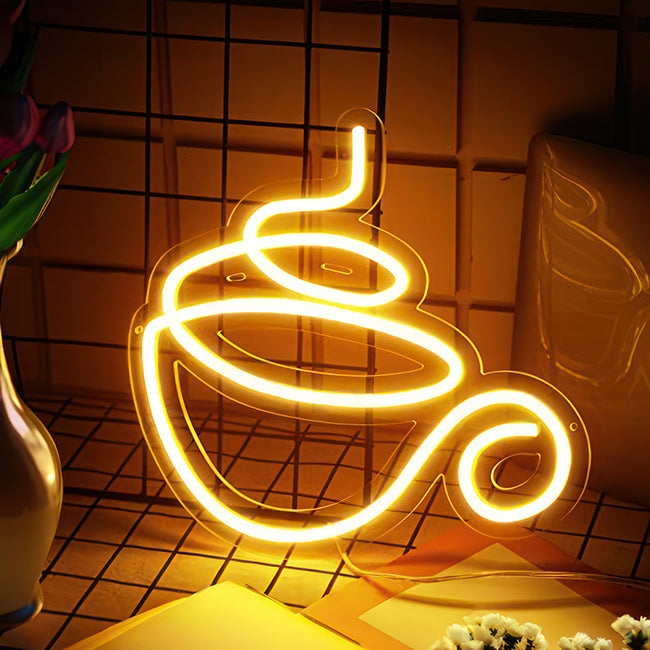 Why buy a neon sign for your cafe or coffee bar?

A neon sign sets the mood and ambiance in any space. A neon sign can also draw a crowd, and some of our customers actually buy signs as selfie background images - which help with the cafe's marketing and promotion, and becoming a selfie destination coffee shop.
What are the most popular neon signs for cafes?

Our most popular neon signs for cafes are:

The "Steaming coffee cup" neon signs
"Coffee is the Elixir of Life" sign
"Life is too short for bad coffee" neon sign

We also sell a lot of custom neon signs for cafes, where the coffee bar wants to have their specific logo, their specific unique selling proposition or message lit up in LED lights.
How much does a coffee bar neon sign cost?

Our cafe and coffee bar neon signs cost in the range of $200-$2000.

Pricing varies based on whether you are choosing a ready-made sign or having a custom neon sign made. Size of the sign, the complexity of the design and the specifications all factor into pricing of a neon sign.

Please contact our team if you would like a FREE design and quote for your custom sign.
How long does it take to make a neon sign?

Our team are optimized and it typically takes 2-3 days to build a custom neon sign.
How hot do LED neon signs get?

Our LED neon signs are safe to touch, they are very mild in temperature, and very safe to use in close confines.
What is the timeframe on delivery of a neon sign?

We send all neon signs via Express Post with Fedex and UPS - we typically see our signs delivered in 5-6 days after postage.
How long is your warranty?

We have a 2 year warranty on all neon signs.
Where can I place my neon sign in a cafe?

Our indoor signs can safely be positioned anywhere in the cafe where there is not water or water vapor.

If you wish to hang a neon sign above a coffee machine, where there is steam and water vapor, then it's advised to buy an outdoor, a weatherproofed neon sign, that can safely withstand the moisture that the coffee machine will give off.
How many neon signs do I need in a cafe?

The decor of a cafe will vary greatly. Our neon decor suggestion for a cafe is to have a neon sign of the cafe logo, then a big sign of the ethos of the cafe behind the counter, like "Coffee is King" or "Coffee is Life" - something epic, like that behind the counter, then maybe a selfie sign which is positioned away, and in a spot where patrons to the cafe can take their pictures, post to instagram, then maybe an outdoor or window sign of the logo of the cafe.

If you want to discuss the decor in your cafe, and how neon signs can fit in, talk to one of our team.
Will a neon sign attract customers to a cafe?

Yes - From our feedback and experience neon signs definitely attract the eye, and invite customers inside with their ambiance and warmth. Used properly a neon sign is a marketing tool which businesses can harness to not only draw customers in, but also make them repeat customers once they experience your service.

A neon sign can also serve as a marketing outreach tool - people take a selfie in front of your shop sign, and then post to instagram, and then others visit to do the same.
Ready-Made Neon Cafe Signs
If your looking for some simple signs for your cafe then consider our ready-made neon sign range.
Questions about neon cafe signs?
Contact our expert team!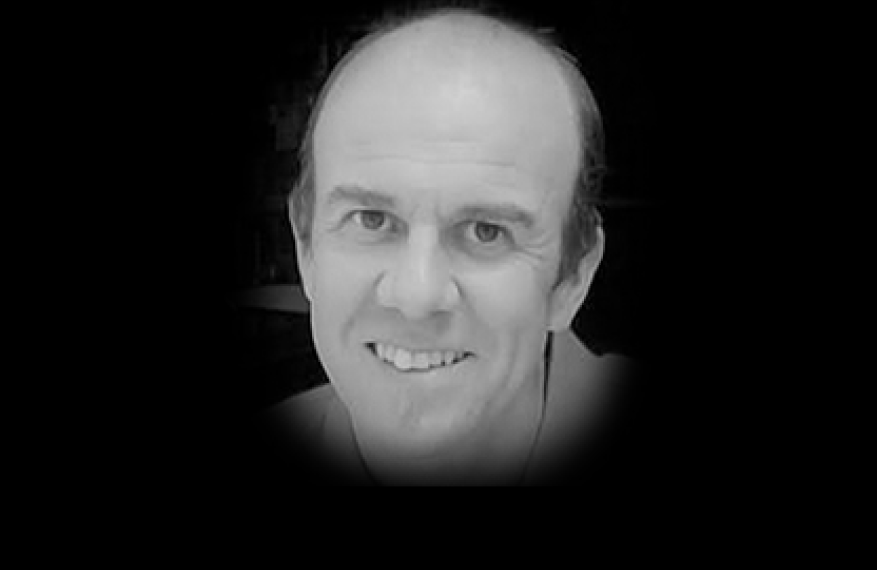 Chris is our interior design expert and having worked in the neon industry, online and with cafe decor for over 20 years, he knows his stuff.
He's helped numerous cafe owners integrate neon signs into their decor with great success - neon is a great way to captivate viewers eye, and draw them to your unique messages or ethos that your cafe stands for.
Reach out to one of our skilled team members today, to discuss having a custom neon sign in your cafe.
Brands That Trust Us