Neon Open Signs | Open Neon Signs | Business Signage
Step into the vibrant world of Voodoo Neon's Open Signs. Designed to make an indelible mark on your business decor, these neon open signs are not just a lighting solution; they are an experience.

Crafted with meticulous attention to detail, each sign illuminates your window, or door space, with a warm, inviting glow that's impossible to ignore. From the sharp clarity of the 'Open' lettering to the rich radiance of the LED neon lights, every element is specifically designed to elevate your aesthetic and beckon customers into your establishment.

The beauty of these open signs extends beyond their stunning radiance. They're also incredibly versatile, making them perfect for any setting – be it a chic urban cafe, an edgy art studio, or even a cosy bar. You can easily mount these LED signs on your window, door or wall as art pieces, instantly transforming any room into an exciting and lively space.

Voodoo Neon prides itself on its innovative approach to design. Our open neon signs are not just about bright lights and catchy phrases; they're about creating a captivating ambiance that resonates with your unique style. With Voodoo Neon's open signs, you're not just announcing that you're open for business – you're declaring your passion for creativity and innovation.

Each sign is crafted from high-quality LED neon lights that promise longevity and durability while being energy-efficient. The robust construction ensures that these neon lights remain vibrant and captivating for many years, making it an investment worthwhile.

Experience the magnetic allure of Voodoo Neon's Open Signs – a perfect blend of practicality and aesthetic brilliance. Step away from mundane lighting options and embrace the flamboyant charm of our neon lights. Illuminate your space in style and let the world know you're open with Voodoo Neon's Open Signs.
Frequent Questions About Our Products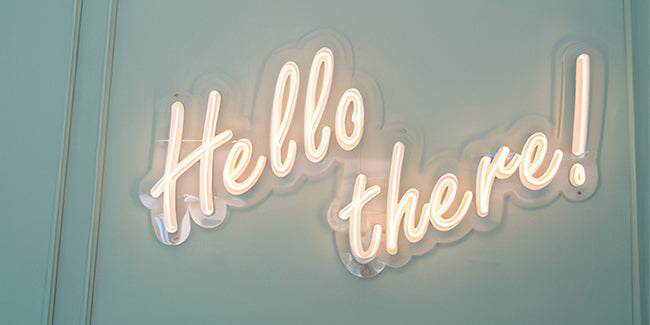 Are your signs customizable?

Yes - We have custom LED signs that are fully customizable. You can give us any design you wish, logo, letters or words to use, any colors, and any fonts, in any size and we can make a custom neon sign for you.

The range in this section of the website are ready-made signs, which are cheaper because they have been pre-designed, made in bulk as they are. If you want one of these signs with customizations, that is possible.

Just contact our team if you want a custom sign.
What type of lights are used in your signs?

LED Lights - We use high efficiency, low power LED lights in all of our neon signs. LED lights are bright and durable. We use only the highest quality LED lights on the market, that typically get 50,000 to 100,000 light hours.
Do the signs come in a range of sizes?

Yes - All of our ready-made signs have a range of sizes to choose from. These have been designed to specific sizes, to suit most price points for customers. Simply visit the product page of the neon sign you like and select the sizing you require.
Is an installation kit provided?

Yes - All of our signs come with an installation kit. Here are the options for our signs:

Flat/flush wall screw kit (default)
Metal pins (hold the sign 1/2" off the wall, a great visual effect with light radiating behind the sign)
Sticky tabs/tape (useful for rental housing or accommodation where you can't drill into the wall)
Hanging wire
Hanging chains
Desk stand

By default our signs come with a flat to wall screw option. Additional costs are associated to the other options.
What is the warranty provided with your signs?

2 years - We have a 2 year warranty on all of our neon signs.
What is the shipping cost? - and, timeframe?

FREE - Our signs all include FREE Express Post shipping and delivery with UPS or Fedex. We select the fastest service for your sign, and it'll typically be delivered within 5-6 days.
What is your return policy?

If you have an issue with an order, contact our friendly customer service team - Typically we'll be able to help you within a couple of hours of contacting us - Phone or email.
Our happy customers said ..
Thanks for the excellent service Voodoo Neon.
The neon sign looks great.
The sign we bought looks great.
Eye-catching, and just like the design.
Bought a ready-made sign - It was good quality and works perfectly.
Recommended.